Congratulations to Jason Keith on receiving the 2012 "Emerging Artist" Theresa Pollak Prize for Excellence in the Arts!  Keith is in the undergraduate painting & printmaking department at VCUarts and was featured in our 2012 "Almost Famous" exhibition.
We're proud to continue to show his work in the gallery, including this recent painting: "Untitled", 2012, Mixed media on panel, 48 x 48 inches.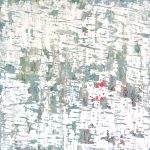 More information about the Theresa Pollak Prizes can be found here.