"I'd say 90% of what I do in the studio
never becomes a finished painting, but,
alas, that's the only way I can get to the
Richard Roth has shown with Reynolds Gallery for decades now, having first entered the Richmond art scene in 1999, when he began teaching at VCUarts in the Painting + Printmaking Department. The artist, author and furniture designer was originally scheduled to open his seventh solo exhibition at the gallery on April 17, 2020, which has been postponed. Now existing as a special online preview HERE, we are excited to have an accompanying Q&A with Richard below to dive even deeper into his process and studio practice. 
You somewhat recently moved from Richmond to Camarillo, California. Has this changed your studio practice?
My formative years as an artist were in New York City, and I think I've pretty much carried those early New York School values wherever I ended up. On the other hand, living in rural Virginia for 17 years reintroduced the natural world in a very big way. And my time in California seems to be a continuation of that. Nature is simply the best. While it can never be outdone, it is an important new source for me.
What is your approach to the 12 x 8 x 4 inch "box paintings"?
The small 3-D polychrome paintings are arrived at in a pretty traditional way, they evolve from the process of their making. I start painting on panels I use as prototypes — they are identical in size to the final paintings and they are quite roughly painted. I want to develop ideas as quickly as possible and the paintings change rapidly, I often use colored tape to change forms, whatever's fast ­­— things get messy and I usually just paint one side and the front, just enough for me to understand the painting. I follow ideas as they appear, most forms get painted over, but it's a great day when I'm totally surprised by where the painting has taken me. I photograph every stage in the process and have quite a large archive of the work in various stages, configurations I don't yet fully understand. When I find the painting, when it's right, I repaint it carefully on a new panel. I don't love this final part of the process ­— re-fabrication — but I believe it is necessary for the idea of the work to be read clearly and without any kind of nostalgic patina.
Where does the imagery come from in these painted sculptures?
Everywhere really. Since I began working on the 3D polychrome paintings, I realized that the entire world was 3D form combined with a surface of color/pattern. Nature, the built world, design, clothing—everything is 3D polychrome! So, there's no shortage of inspiration. For recent work, I've been interested in West African fabric patterns, Zulu baskets, Navajo blankets, early American quilts, Day of the Dead masks, bird decoys, Shaker furniture, Indonesian bamboo fish traps, Prouvé chairs, George Ohr pots, Carlo Scarpa glassware, Japanese rice boxes, Luis Barragan houses, Raf Simons fashion, Cervélo racing bicycles, contemporary Ghanaian coffins, street fashion, and monster trucks – to name a few.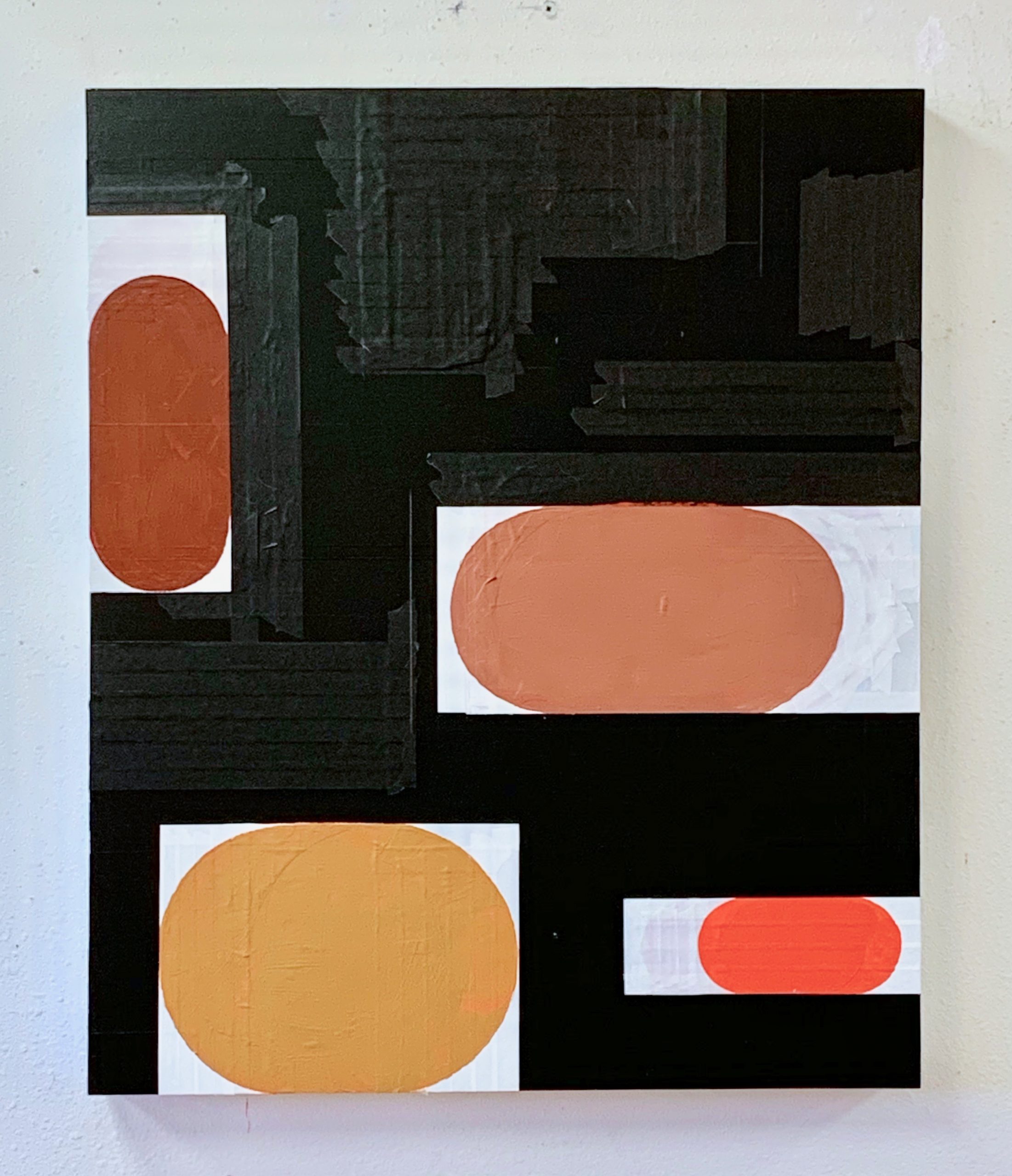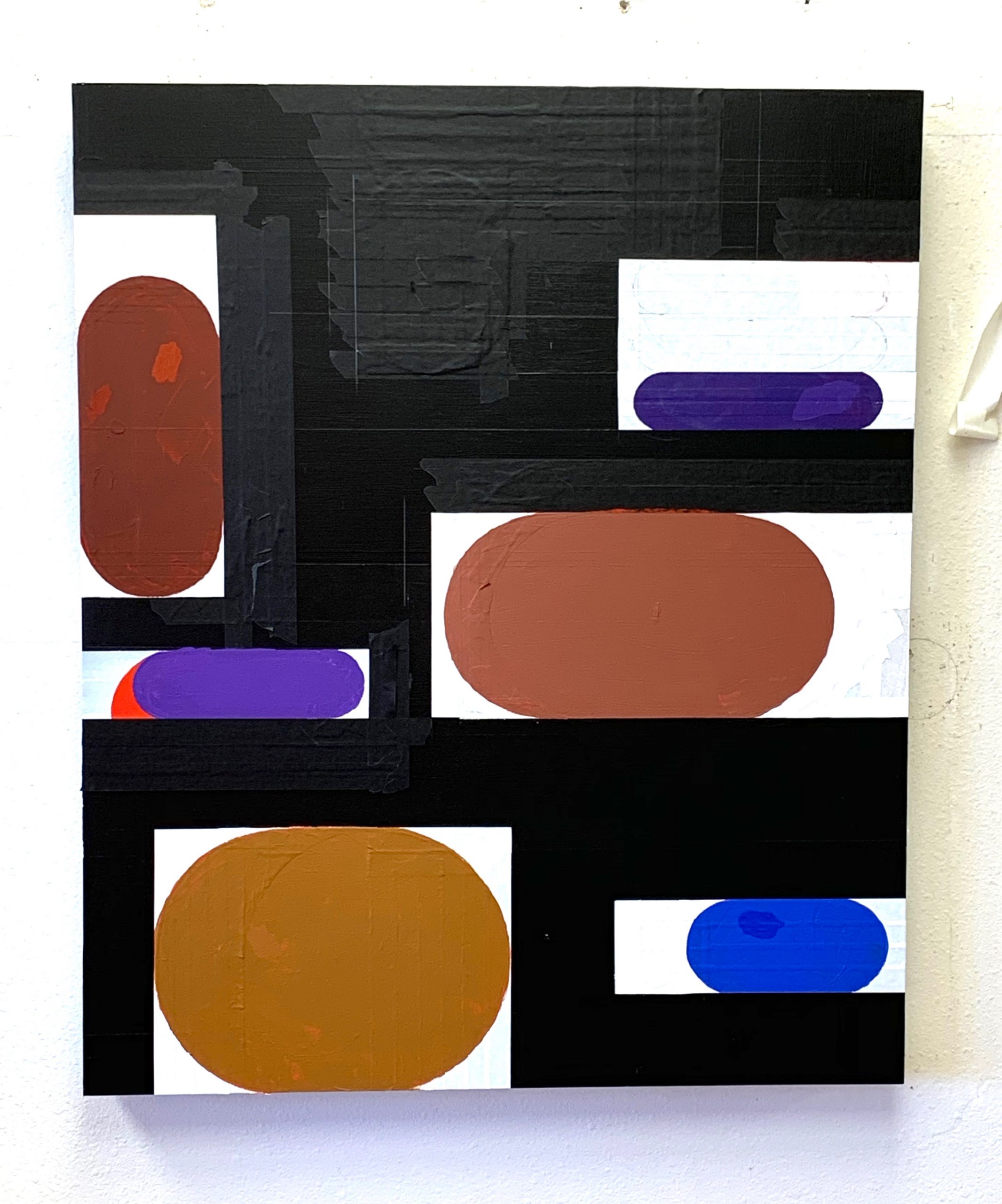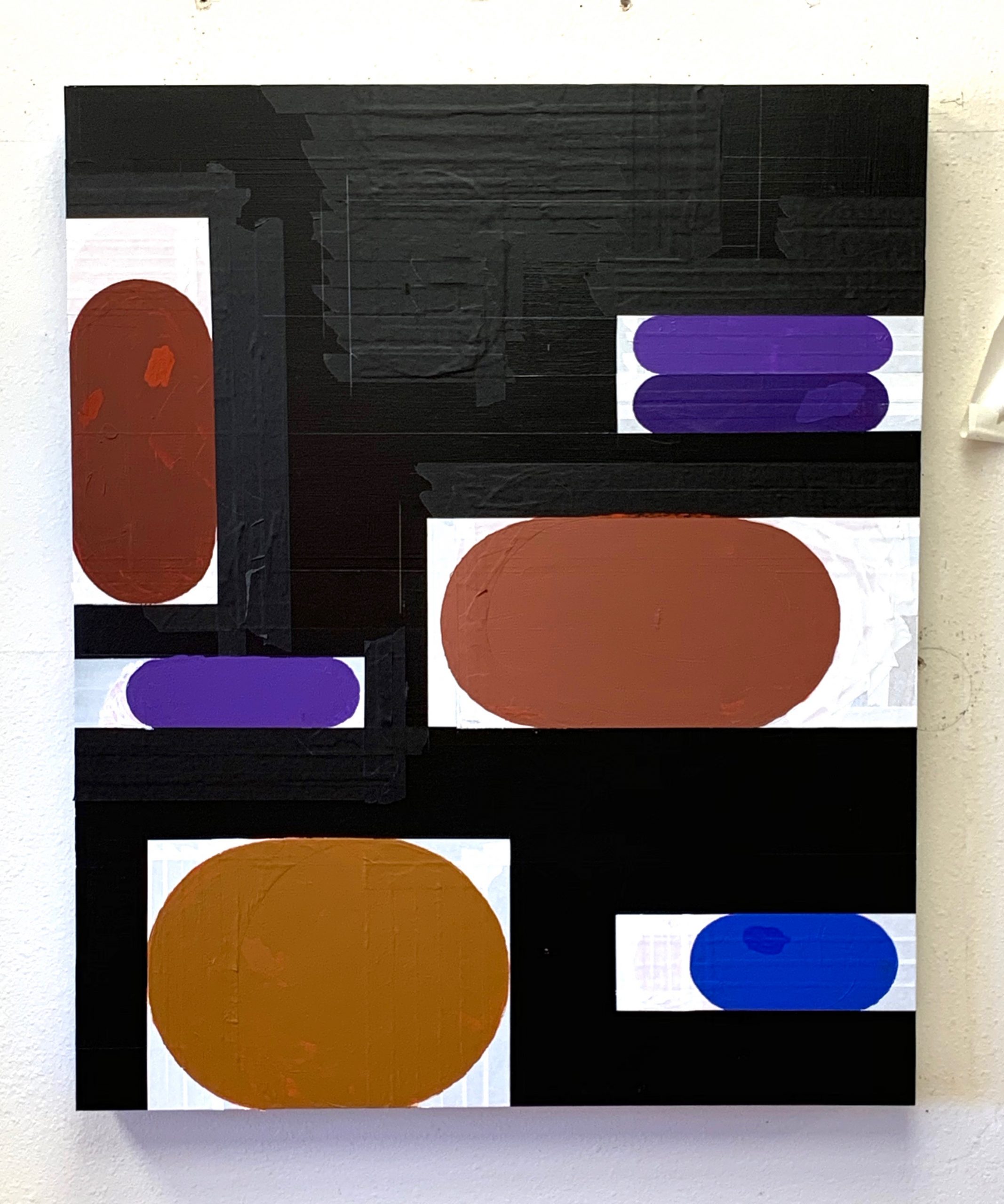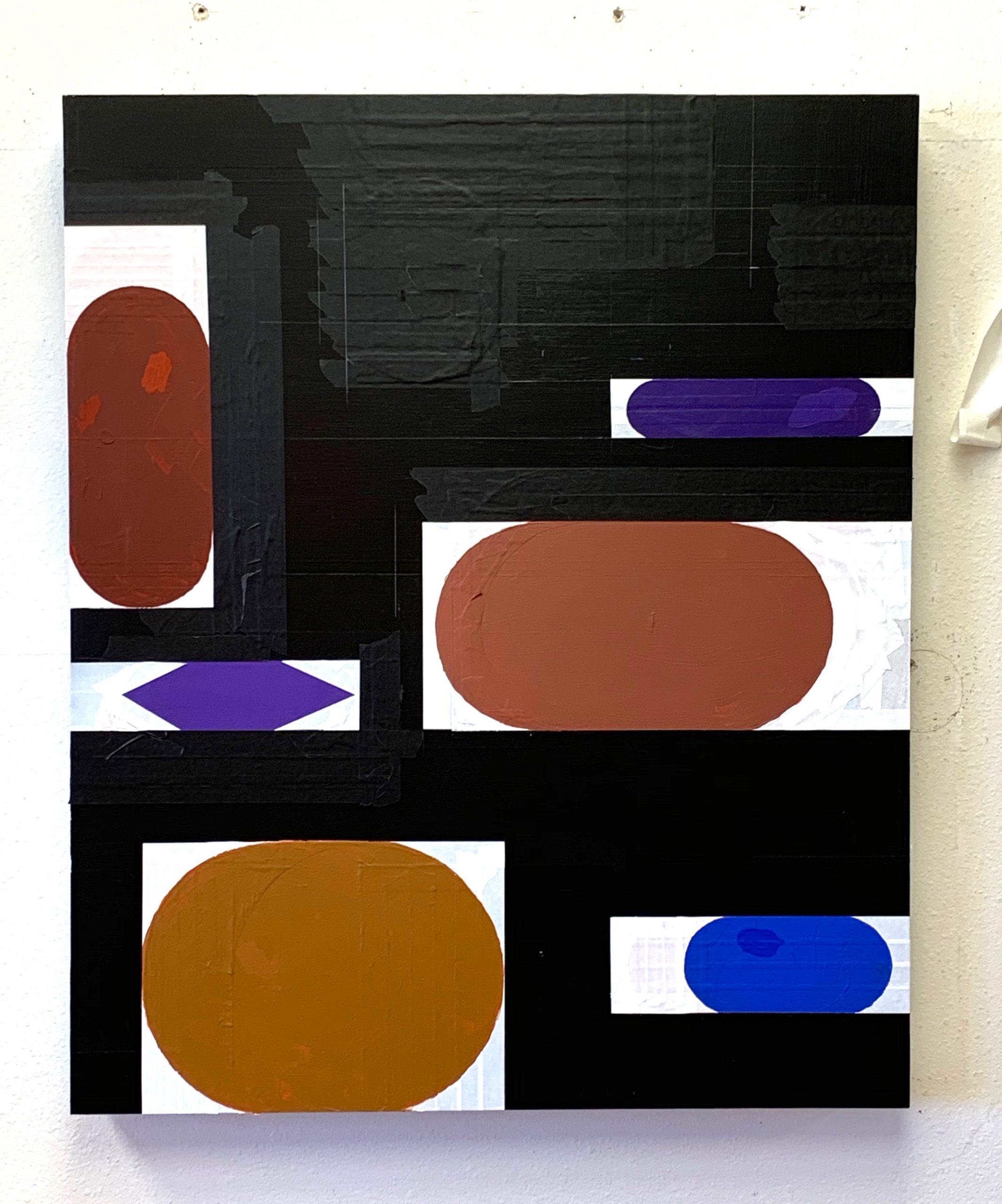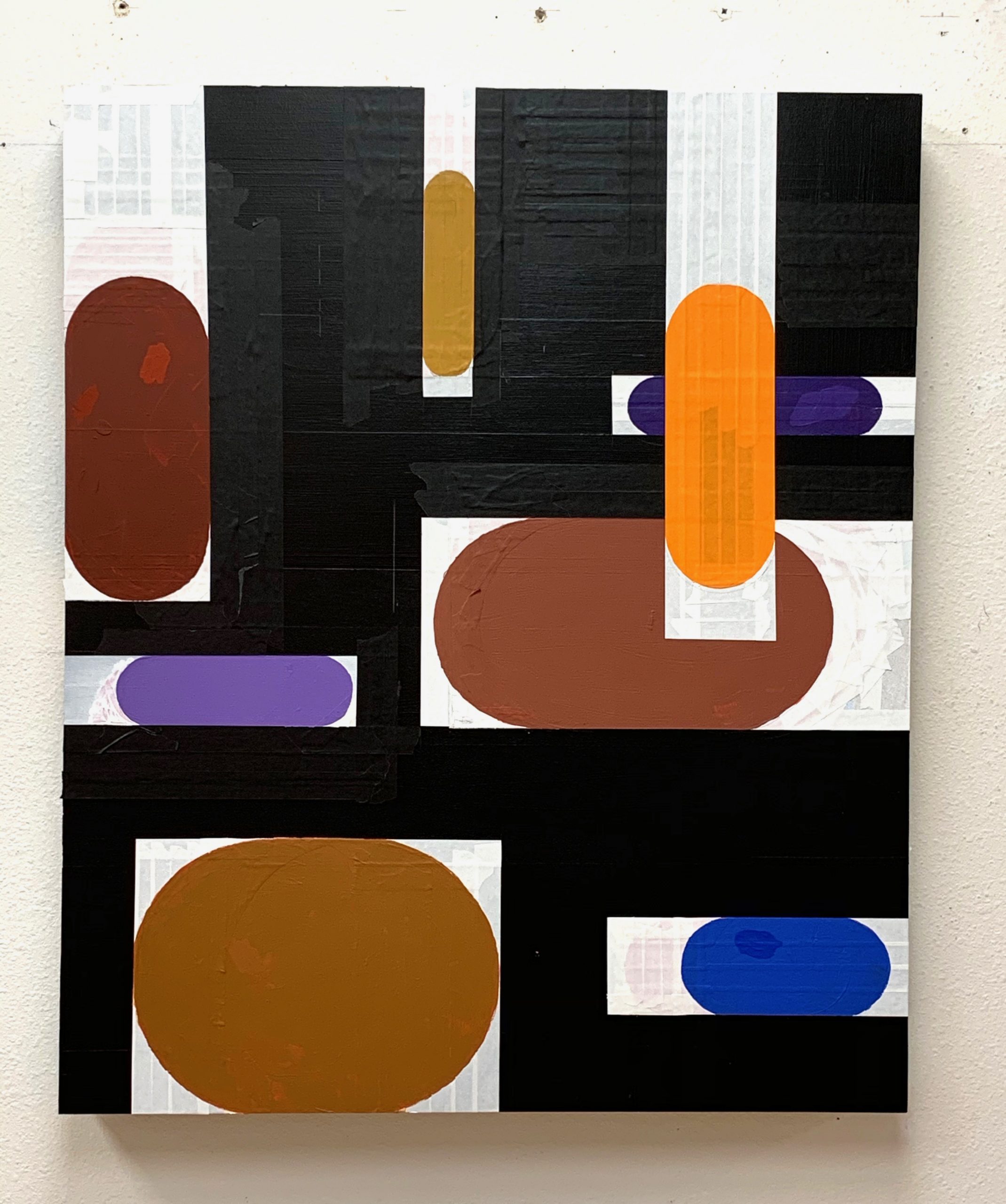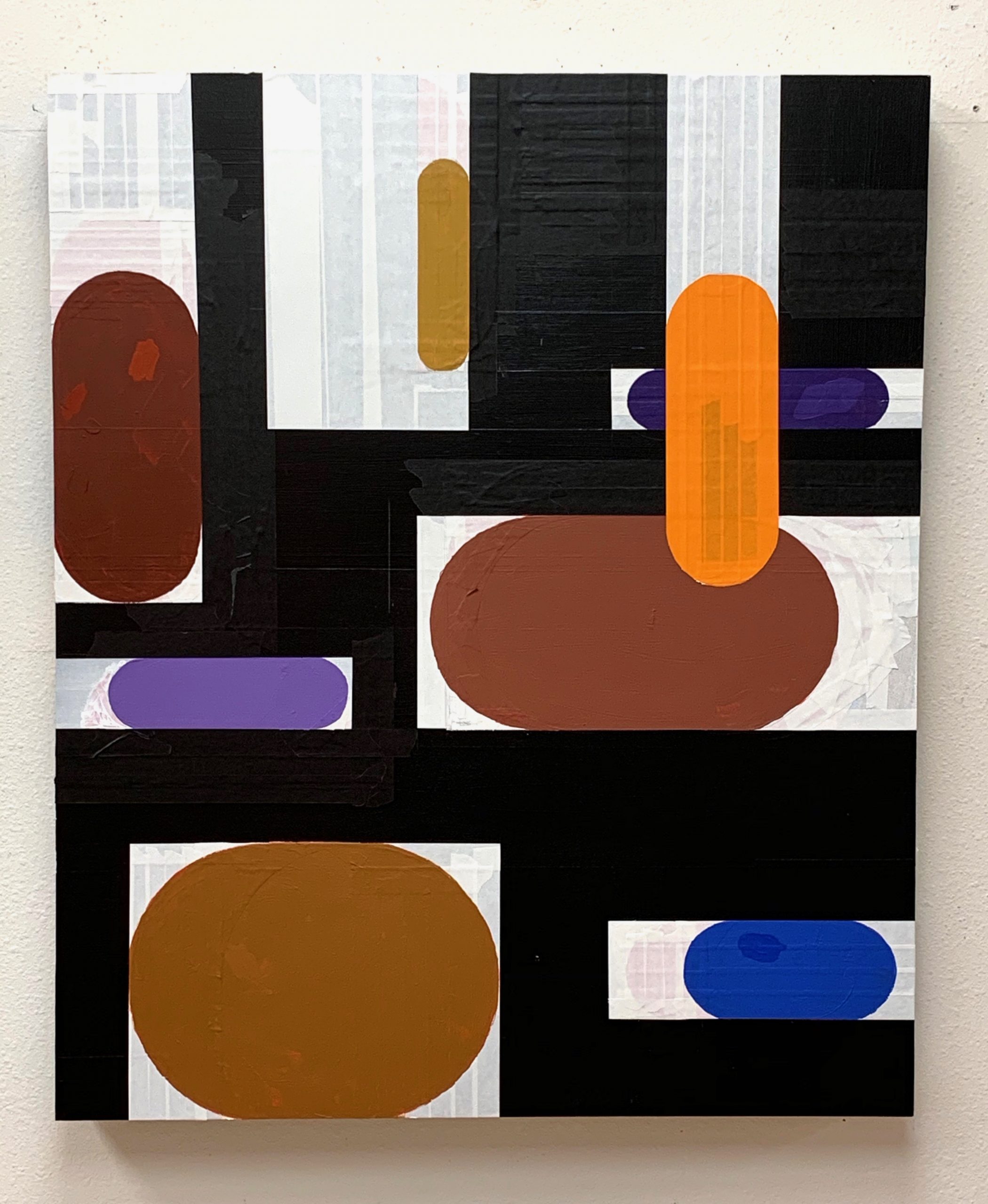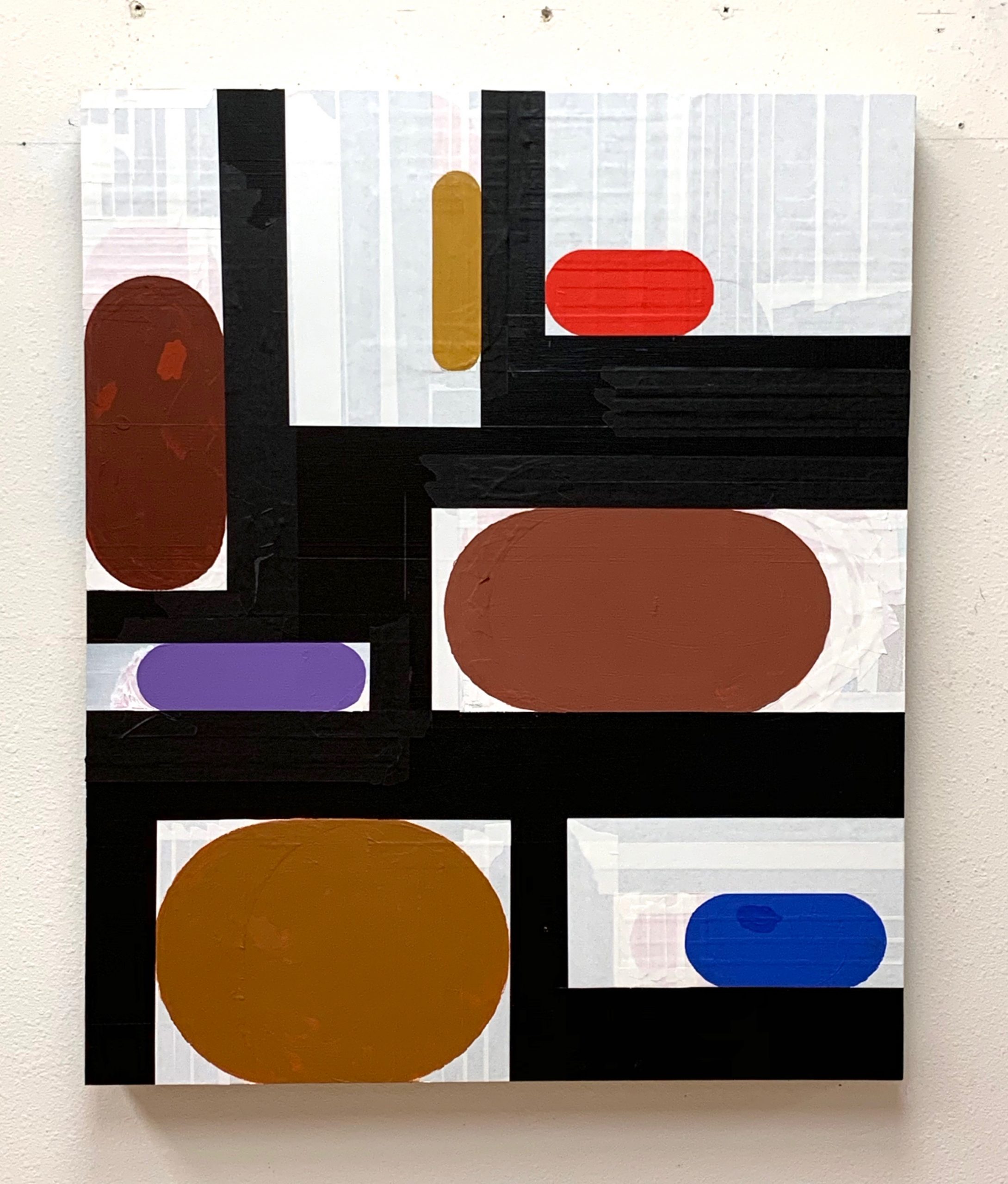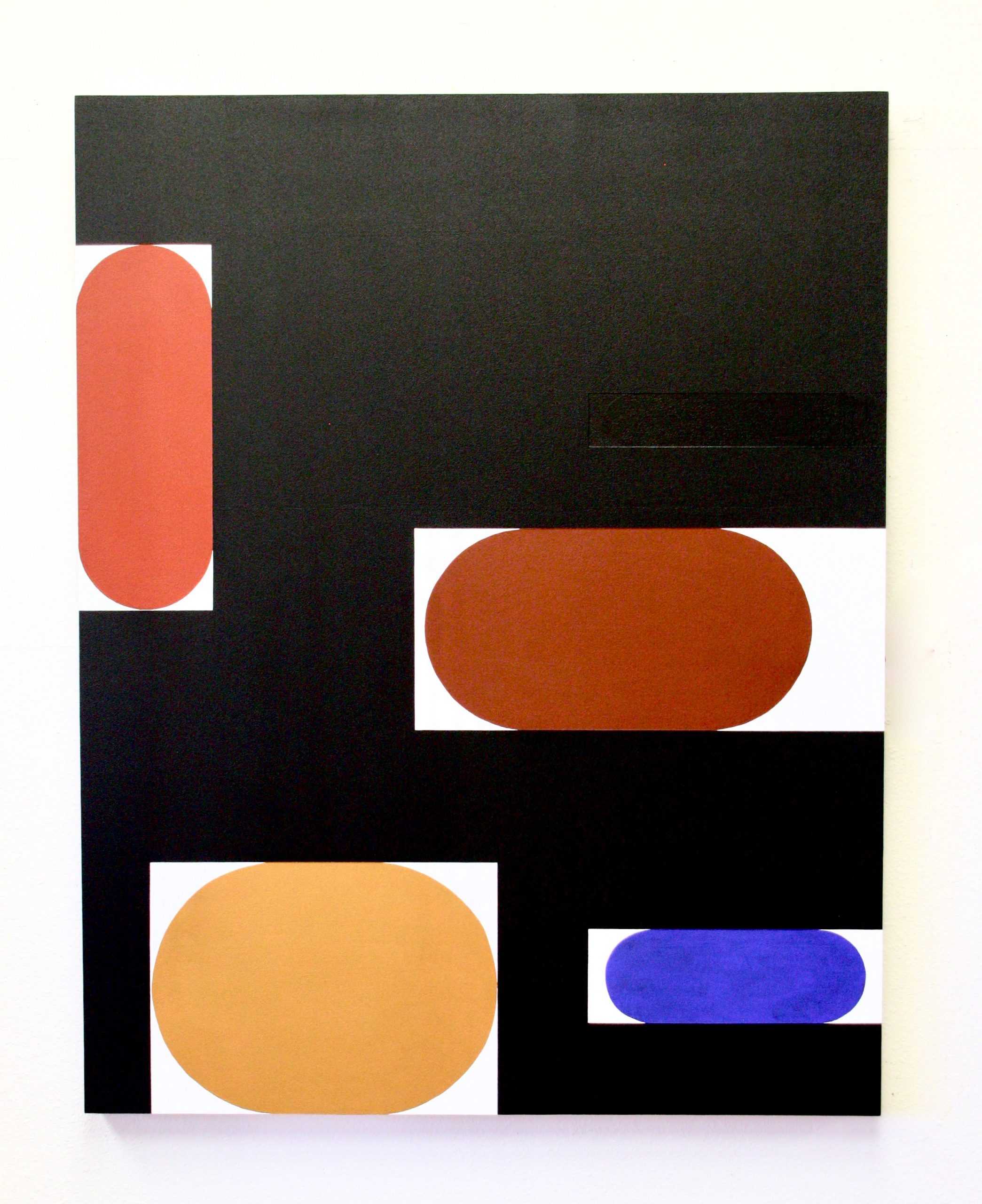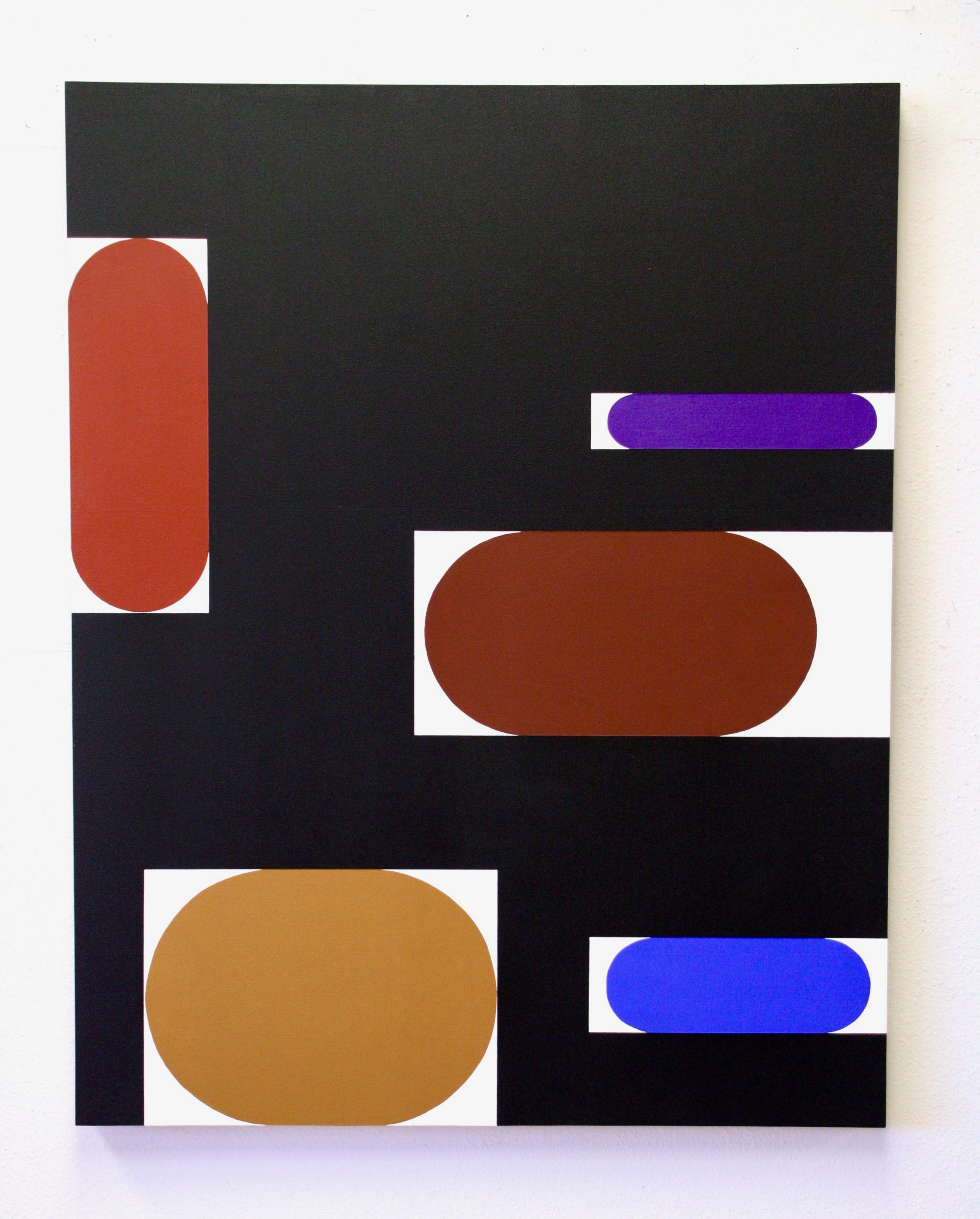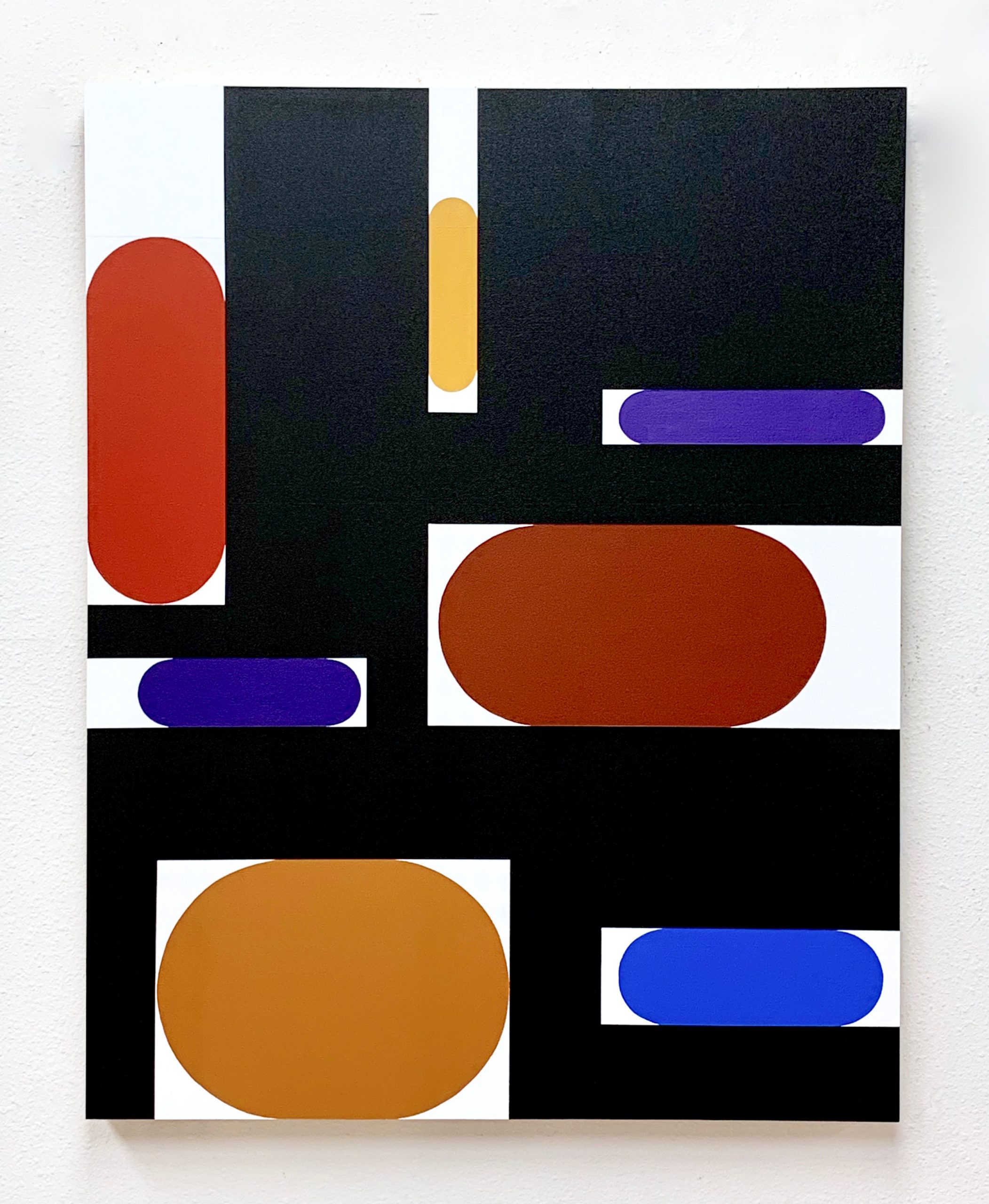 What about the couple "flat" paintings we see hung in your studio?
During the last fifteen years I've been making flat paintings (what a novel idea!) from time to time and in a variety of different formats. My follies! These 38 by 30 inch paintings are developed when I have ideas that are not born from the relationship of the two-dimensional plane to three-dimensional structure. Some ideas live more fully in flatland.
Have these ideas always been expressed through 3D and flat paintings?
I painted for many years beginning around 1969, then in 1993 my practice became more conceptual—I created collections of contemporary material culture for more than ten years. In the early nineties, I expected too much of painting; felt it could never live up to what I needed it to be. I decided to steer far from painting, and instead study and learn from the world, the endlessly amazing world, through making collections. Anthropology teaches us that all activities and artifacts express a culture, not just the "highest" — quotidian customs and rituals are as significant as exalted religious ceremonies. 
I love custom cars, fashion, and the culinary arts, but in 1993 was embarrassed by the pretentiousness of my own culture—painting. It wasn't until I could see painting as just another subculture, not as the culture, not as high culture, that I could re-enter it with full enthusiasm and without cynicism. I returned to painting in 2005 with a renewed and revitalized interest, fueled by conceptualism and informed by postmodern attitudes. Now, painting for me is like returning home.
Collection of thread, yarn, and rope spools inspiring Richard's new work
What has been the inspiration behind your continued painting?
For me, the play of the two-dimensional and the three-dimensional is undoubtedly the horse that pulls the cart. The paintings can be informed by such things as the exposed form that results from slicing through a layer cake or a melon—red inside juxtaposed with a green skin outside; the rectangular hole in a concrete block; striped high-heel shoes with red soles.
You're also a published writer. How is writing a part of your studio practice, if at all?
Recently, I wrote a novel—NoLab. Its characters are mostly artists. In NoLab I created many artworks that would be quite difficult, if not impossible, to create in the real world. NoLab might be understood to be a conceptual project in its own right.
For the last few years, my ideal studio day has consisted of two distinct halves. Usually, in the morning I write. In the afternoon I'm at my studio, following hunches, making and altering form and color. What if I stretch this form? Make that corner darker? Turn this section upside down? The mysterious process of arriving at a painting is intoxicating. That's my ideal studio day. Words, words, words in the morning. color/form in the silent, wordless afternoon.
Richard with an "Everything Must Go" print, one of the found objects in his collection of  Sale Signs, which was shown in his first exhibition at Reynolds Gallery
Early painting stages of finished works, Out of the Blue and Shocks and Struts
In progress shot of finished work, Plumb Loco, which was shown in his group exhibition at Valletta Contemporary alongside Damien Hirst and others.
Richard Roth taught in the VCUarts Painting and Printmaking department from 1999 to 2015, serving as department chair for eight years. He received his Bachelor of Fine Arts from The Cooper Union in New York and Master of Fine Arts from Tyler School of Art at Temple University in Philadelphia. In 1991, he was awarded a Visual Arts Fellowship in Painting from the National Endowment for the Arts, and later received a Virginia Museum of Fine Arts Fellowship in Painting (2008–09). He has exhibited at select venues including Margaret Thatcher Projects, David Richard Contemporary, OK Harris Gallery, and the Whitney Museum of American Art, all, New York, NY; Highland Institute of Contemporary Art, Loch Ruthven, Scotland; Rocket Gallery, London; UCR/California Museum of Photography; Museum of Modern Art, Saitama, Japan; and Valletta Contemporary, Malta. His work is held in the permanent collections of the Virginia Museum of Fine Arts, Try-Me Collection, both, Richmond, VA; de Cordova Sculpture Park and Museum, Lincoln, MA; Wexner Center for the Arts, Columbus, OH; The Chase Manhattan Bank Collection and The First National City Bank Collection, both, New York, NY, among others. He is the co-editor of the book, Beauty is Nowhere: Ethical Issues in Art and Design and co-author of two books – Color Basics and Design Basics 3D. In 2019, Roth published NoLab, his first novel. Roth currently lives in Camarillo, California.