"I would imagine most people think my work is orderly or rigid, but looking at the entirety of my practice and my work, I would say the orderliness was born out of a necessity to control the chaos"
April 7, 2020
Cutting Paper: Start to Finish
Leigh Suggs is a paper artist who we've been lucky to work with for over five years. The North-Carolina native earned her Bachelor of Fine Arts from UNC Chapel Hill in 2003 and later moved to Richmond, where she pursued her MFA in Craft & Material Studies at VCUarts. She's lived and worked in Richmond since she graduated in 2015 and has mounted several group and solo exhibitions over the years, including two solo shows with Reynolds Gallery.
We're excited to take a closer look into Leigh's studio practice and have her answer a few questions about her process and relationship with the work.
How do you decide on your patterns and how have they evolved?
I think there is some form of a circle in the majority of my work. It can be obvious or subtle – but the circle or focal point tends to be the start of my process. Rules of geometry, randomness, organization, and "what feels right" all come into play. My patterns tend to be very deliberate – I typically map them out on the back of the work. The parts that most people don't get to see are all my drawings/edits/changes which are on the back side of the piece. That is where I work out design issues. But randomness comes into play when I actually start cutting. Each line that my hand incises (or draws) becomes its own organic or random opportunity for chance. My cut might not be straight, it might not follow the line I originally drew, etc.
Also, I don't use any sort of computer program to aid in my pattern production… it is all hand drawn and hand-cut to be figured out by trial and error.
Can you touch on "making sense" of things in your practice? And how the organic versus inorganic
and order versus chaos come into play?
I think tension between the organic and inorganic is at play in my work.  I would imagine most people think my work is orderly or rigid, but looking at the entirety of my practice and my work, I would say the orderliness was born out of a necessity to control the chaos.  A blank sheet of paper can be pretty intimidating to me and make me feel like I have no idea where to start! Also, I can't tell you how many people have asked if I'm OCD (I'm not by the way)!  … but aren't all those things just trying to make sense of chaos or control of what we can't control? Trying to find centeredness? trying to "circle" back to the balance of things? So from one, comes the other – and vice versa – constantly playing with each other.
Why always paper-based?
I think of two major turning points during my undergraduate education.  First, I worked in the conservation lab at my university's library as a work study.  I repaired old books and manuscripts and made boxes for the rare book collection.  Occasionally I got to observe the lead conservator work on pieces of paper that were thousands of years old.  It was such an intense glimpse into an unknown world of paper and information, and it has stuck with me. Secondly, I had an art professor who introduced me to the "art world" of paper.  He helped me get a summer position at Dieu Donne (an NYC institution dedicated to serving established and emerging artists through the collaborative creation of contemporary art using the process of hand papermaking).  There, I got to see so many crazy new things, and work with several artists.  So, I guess that's how paper became so important to me.  I think I might be fairly close to putting in my 10,000 hours with paper… but there is still so much more to learn!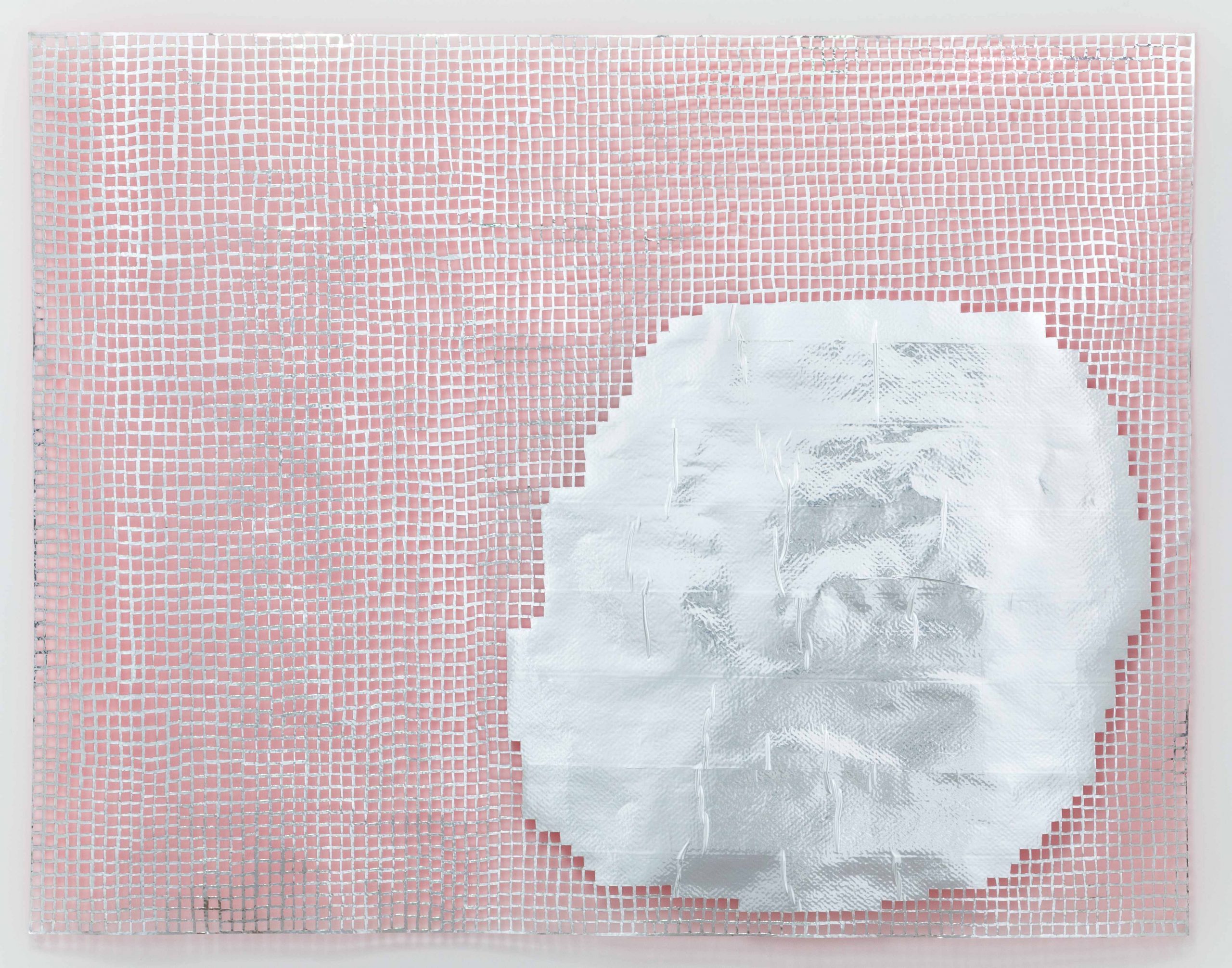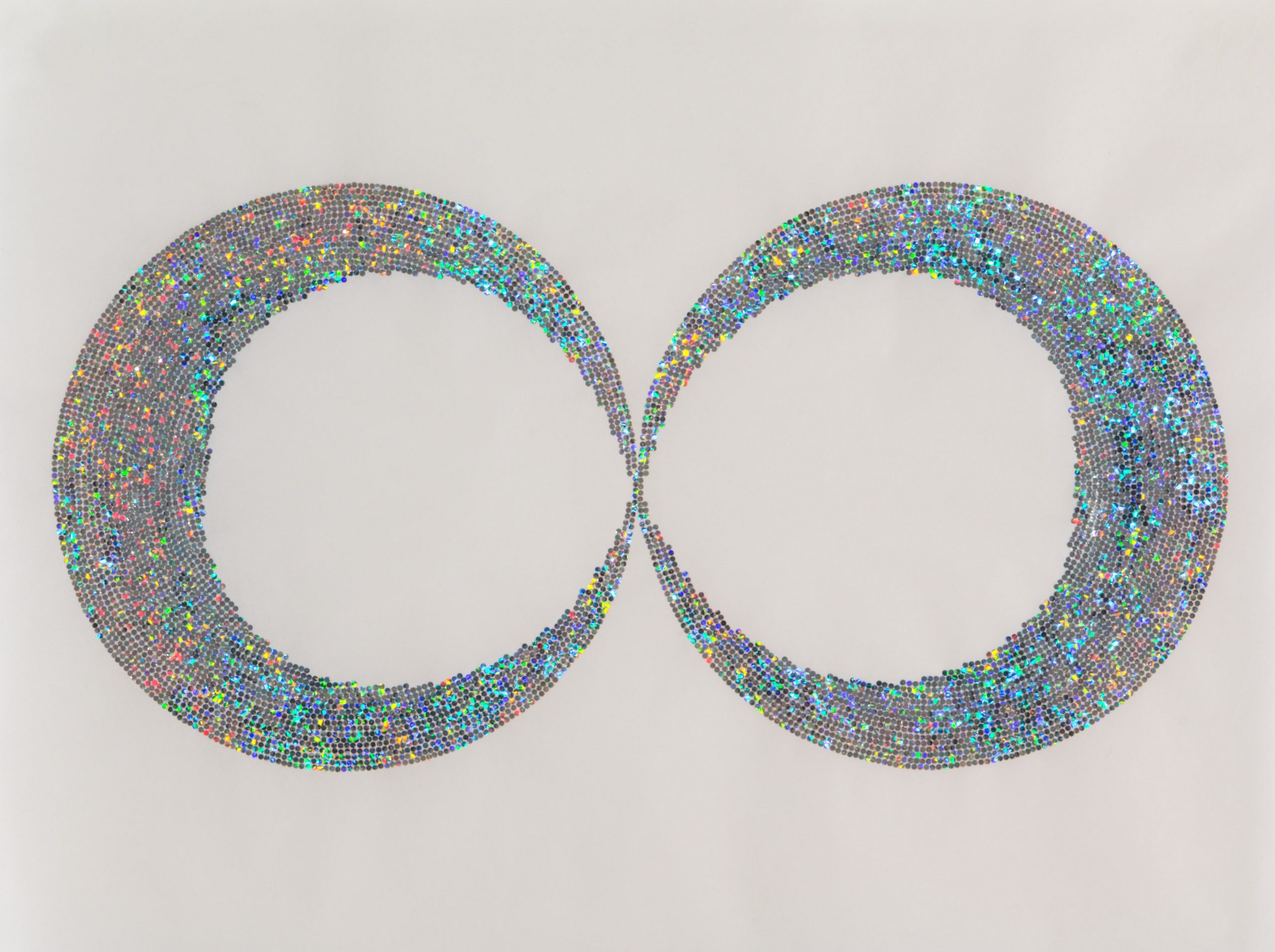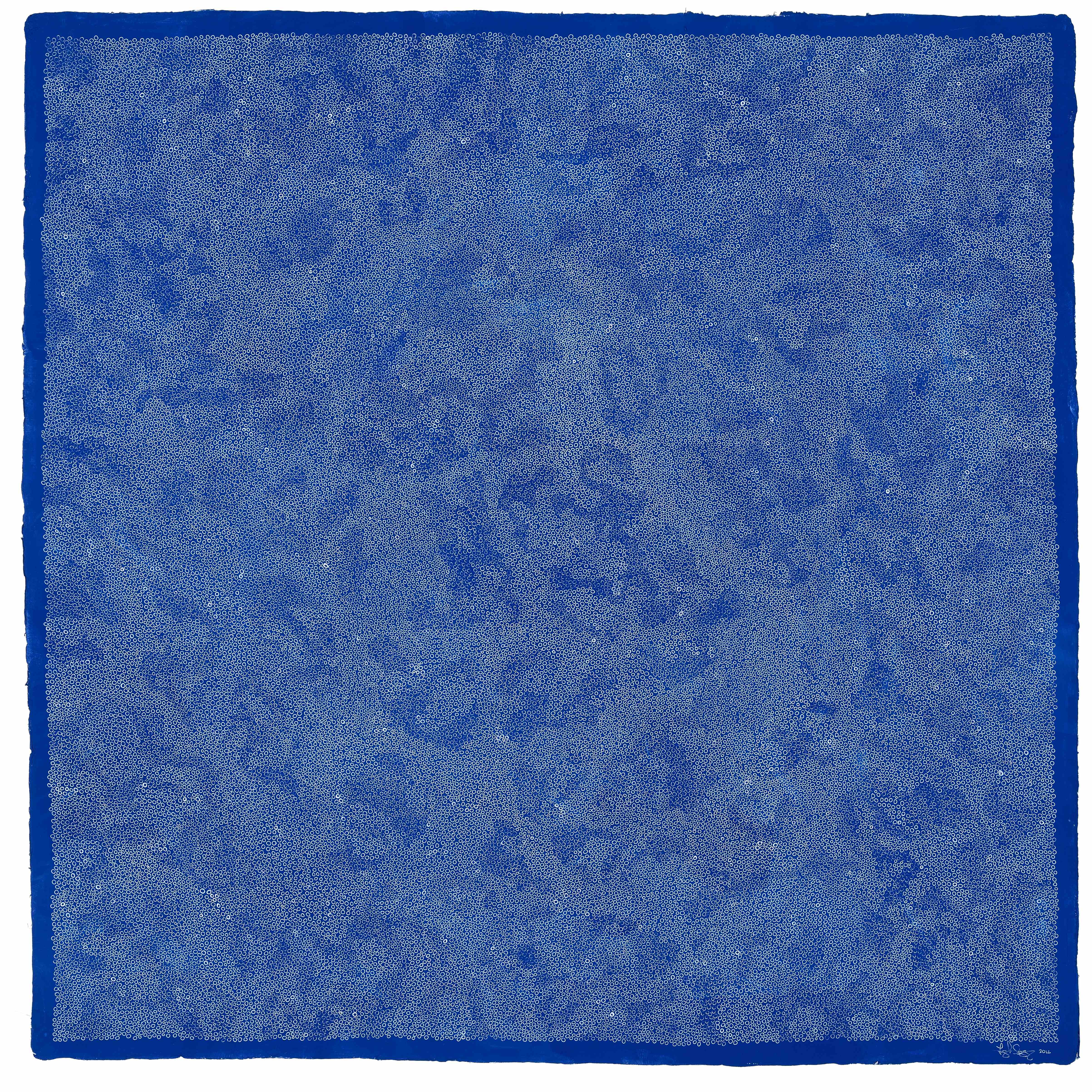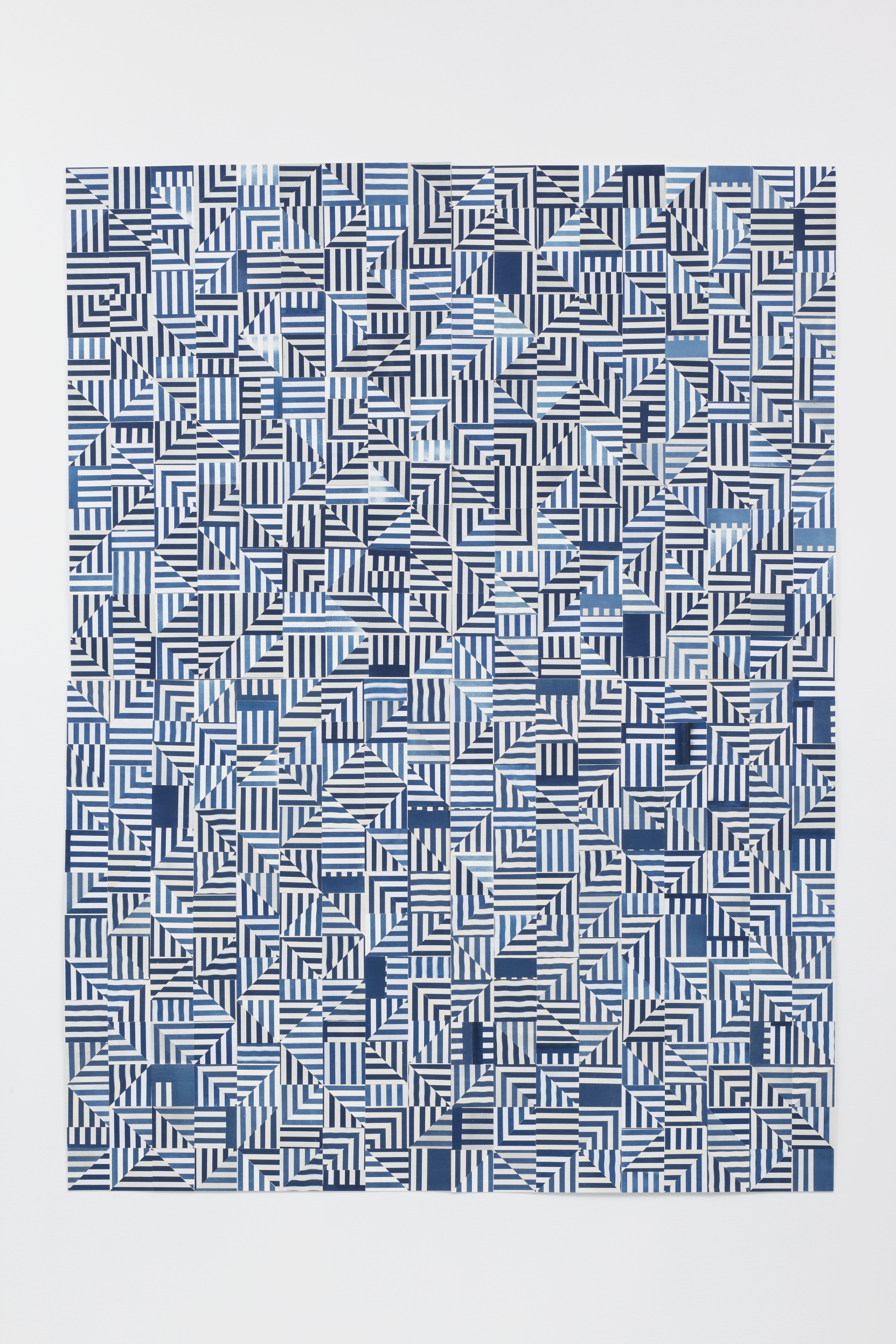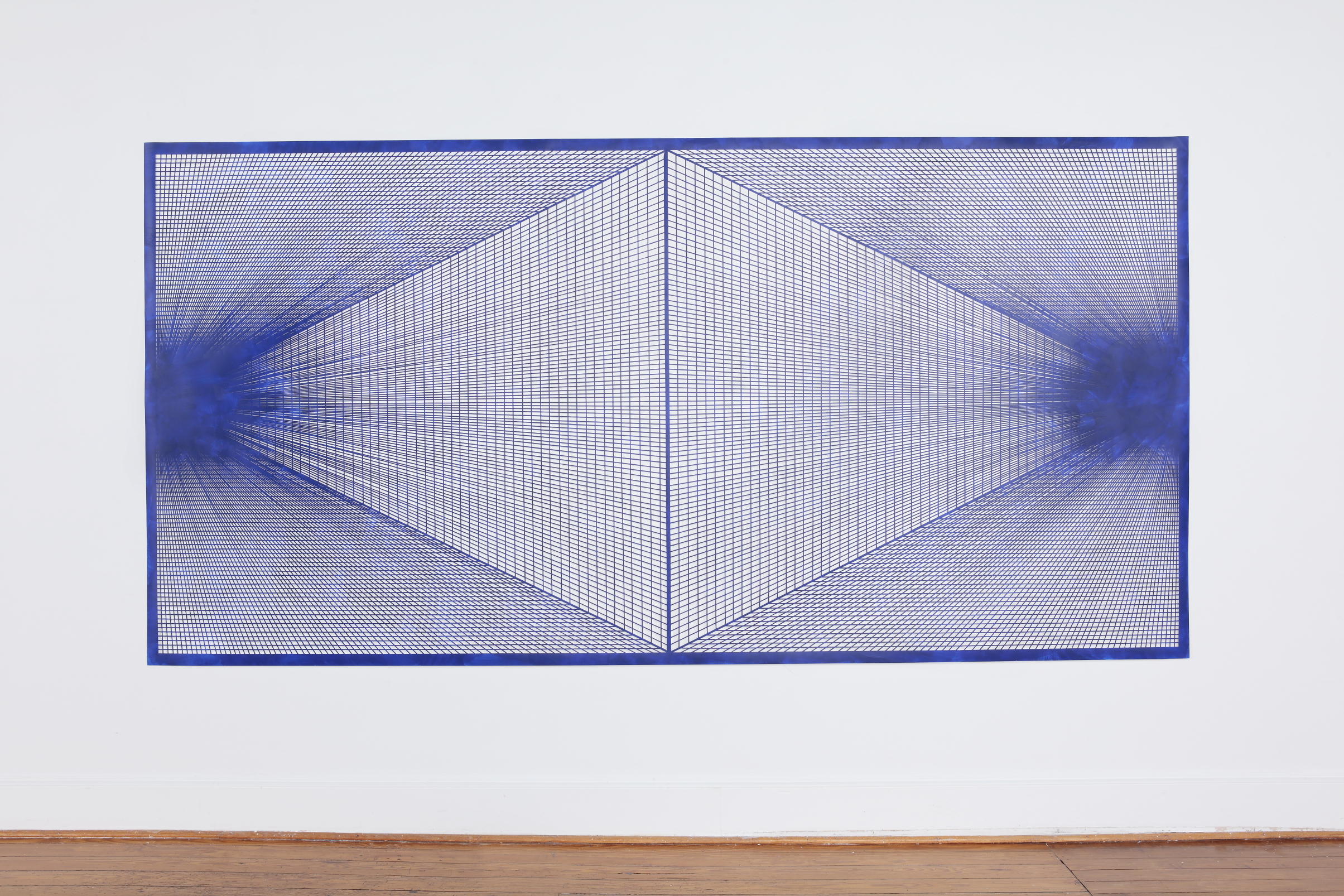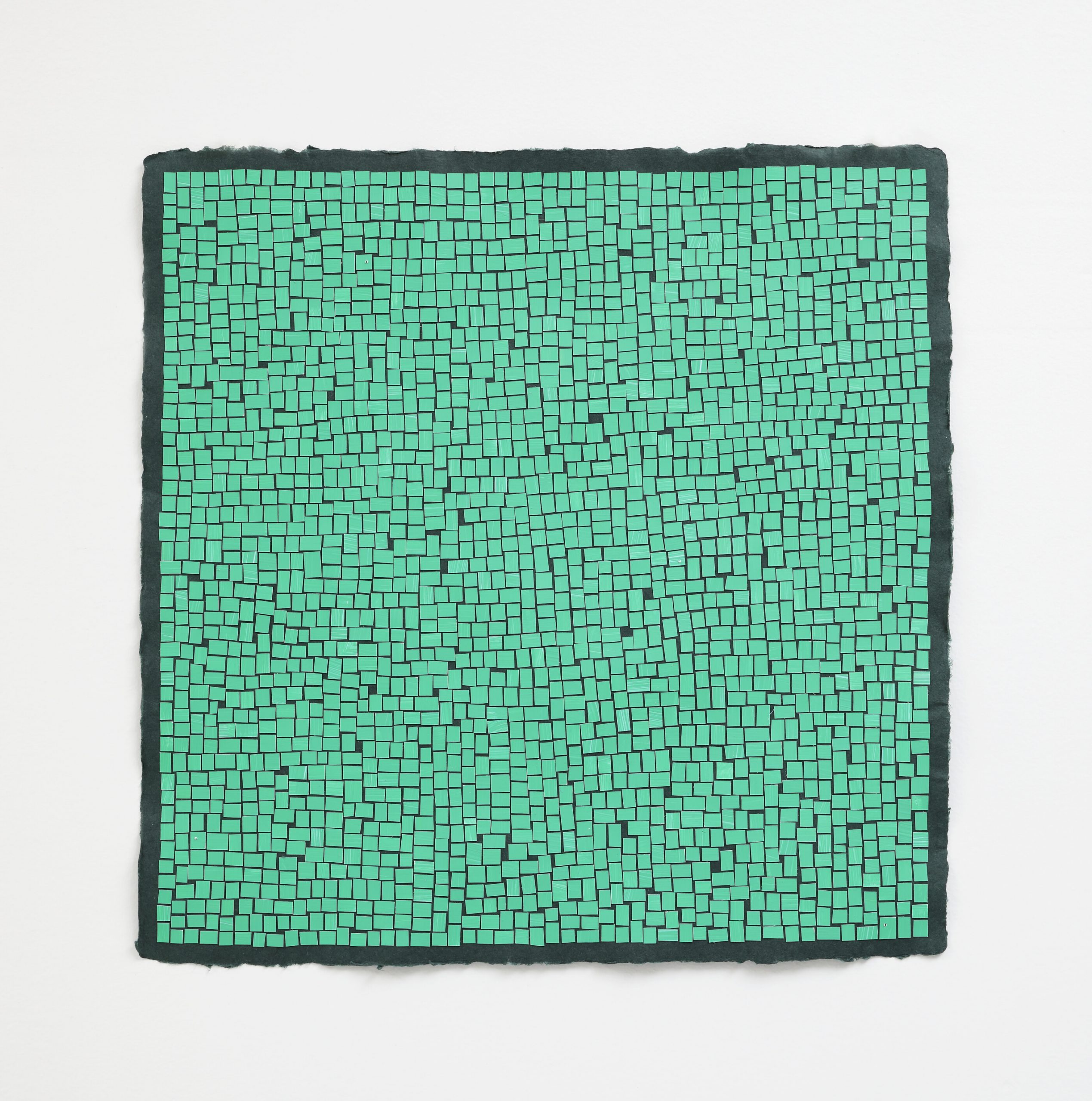 Ghost in The Corners, 2015, silver mylar tape and acrylic hand-cut squares on Abaca, 22 x 28 inches
Crossed, 2015, hologram foil on abaca, 18 x 23.5 inches
Blue Circles, 2015, archival gel ink and acrylic on paper, 40 x 40 inches
The Background, 2017, collage cyanotype, 50 x 38 inches
Making A Chance, 2018, hand-cut, acrylic on Yupo, 60 x 120 inches
Chasing the Target, 2019, hand-cut, acrylic on Yupo, 54 x 66 inches framed
Own Place IV, 2019, hand-cut, acrylic on Yupo, 25 x 22 inches
Shifting Squares, 2019, hand-cut, acrylic Yupo on paper, 16 x 16 inches
Wheel House (Red/Blue), 2020, handmade paper - abaca and cotton, 16 x 16 inches
Reticulating Lines, 2020, hand-cut, acrylic on Yupo, 30 x 30 inches
How have your materials changed throughout the years and why use Yupo paper?
I think specific material choices have shifted over the years because of access or knowledge. My first "paper cuts" were with paper I made at Dieu Donne. I loved working with Abaca – a long natural fiber paper – but you can't buy it in stores, you have to buy it from small papermakers or make it yourself. And slowly over the years with testing other papers and finally coming across Yupo – I don't think it was a widely known paper until the early 2000's. Yupo is a synthetic paper which is tear resistant, and isn't susceptible to the same degradations as natural fiber paper. I tell people it's like cutting through softened butter. It's much easier on my hand!
Your most recent exploration was in hand-made paper at Penland...what is next?
I have been working with the South Dakota School of Mine & Technologies for a project that was to come together this fall – now I guess pending due to the pandemic. But they were taking my drawings and images of finished work, using their computer programs to scan and trace, and then cutting my work out of steel. We are in the sampling phase at the moment; trying to decide on scale, thickness, finishes – all to culminate in a show and hopefully a sculpture on campus. I'm really excited to see how my cuts translate into a completely different material!
Can you tell us about the design and layout process, how you lay the tape and then use an exacto knife?
I usually do a full drawing, either in my sketch book or on the back surface of the work – most of the time I do both. I like to be able to see what the piece will look like from a design perspective before I spend the laborious hours of cutting.  So once the drawing is done, I use the tape to "trace" the drawing.  The blue tape helps my eyes and hands navigate against the surface.  I move fairly quickly, so having the contrast of the blue against a white or red background helps!  Once everything is cut, I then pull up the tape.
How many hours can you cut?
That all depends on how many days I've already been cutting.  But I try to limit it to 5 hours a day – to not cause injury.  Some days more, some days less.  I also usually have several pieces going at once… so one might be cutting, another is prepping/painting, and maybe a drawing or collage.  I alternate amongst them all if I find myself unmotivated or fatigued.
What inspires you?
I gain inspiration just from paying attention to my surroundings – that includes the weird optical things I might experience.  A sunset (a deep navy or turquoise) or a sunrise (bright yellowy-orange) can completely influence my choice of color.  But I am always returning to blues and navys – which I think are directly linked to my environment as a child.  My mom has blue everything and striped everything.  It's definitely imprinted in my mind's eye.
What makes you excited to get back into the studio?
Fortunately, I don't ever have a problem of not being excited to go to the studio!  But also, as I mentioned, I am a creature of habit and routine, so I enjoy coming every day.  I do think life experience has taught me that I'm finally in the right lane – I love what I do!