"Genesis Amnesia: Part 1 begins to recognize some of the many ways this amnesia has been built into our quotidian spaces and intervals, while also trying to plot new possibilities, and conversations towards cultural transformation. From the personal (not only physical) baggage that we keep around us, to the public monuments that never change, I am interested in how our concepts of history, and the stories we remember, are largely influenced by the things that are preserved, maintained, unaltered, or allowed to remain still. These things that claim space become 'natural' over time, to the point where we can no longer recognize their potential for change."
Reynolds Gallery is pleased to announce the opening of Genesis Amnesia: Part 1, an exhibition of two- and three-dimensional work by Richmond artist Sandy Williams IV. In his first solo exhibition with the gallery, Williams presents four different series of work which together embody his role as a painter, sculptor, performer, and poet. Genesis Amnesia: Part 1 opens on Thursday, March 4 with a reception with the artist from 3pm – 7pm, and will be on view through May 1, 2021.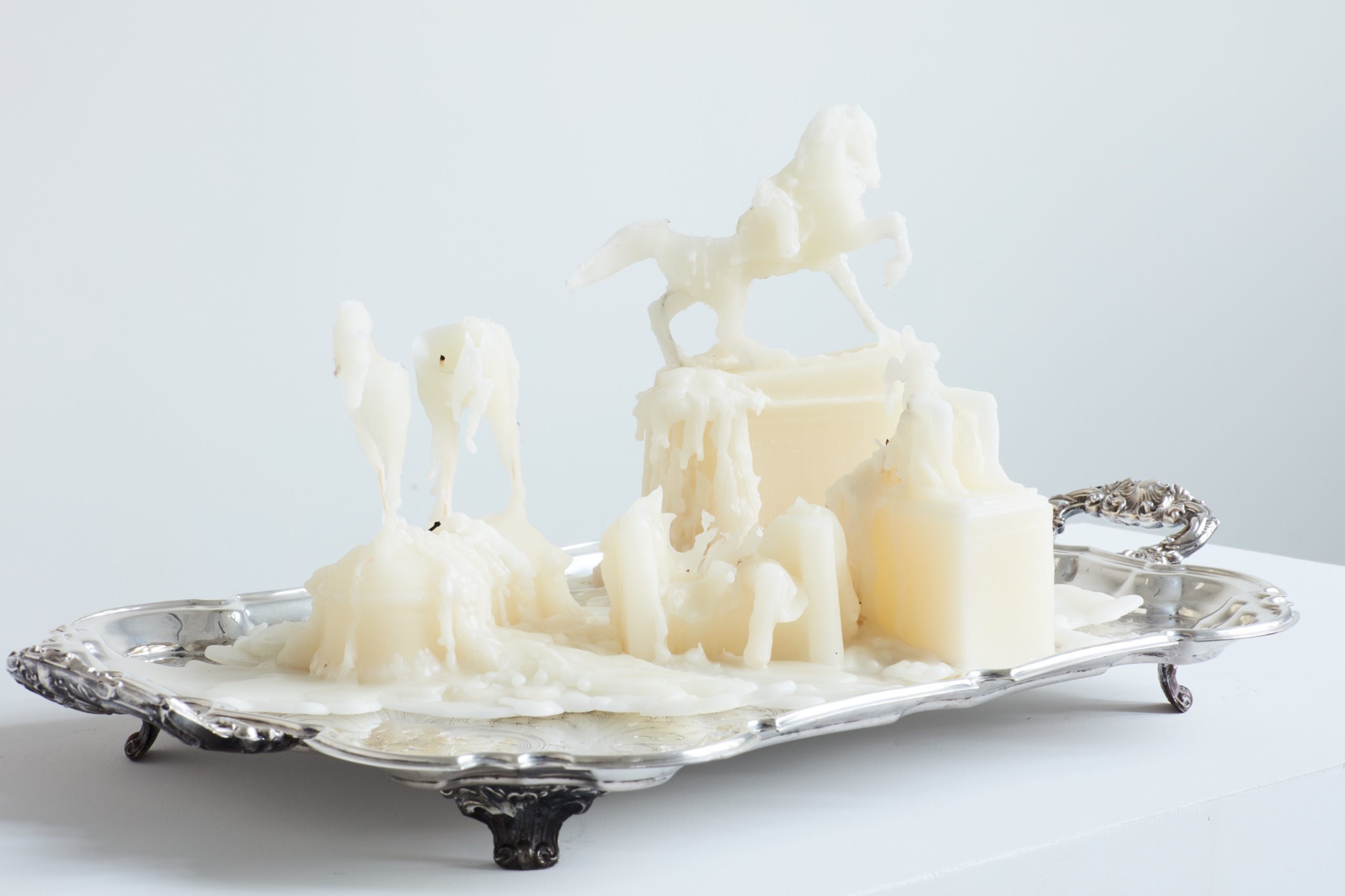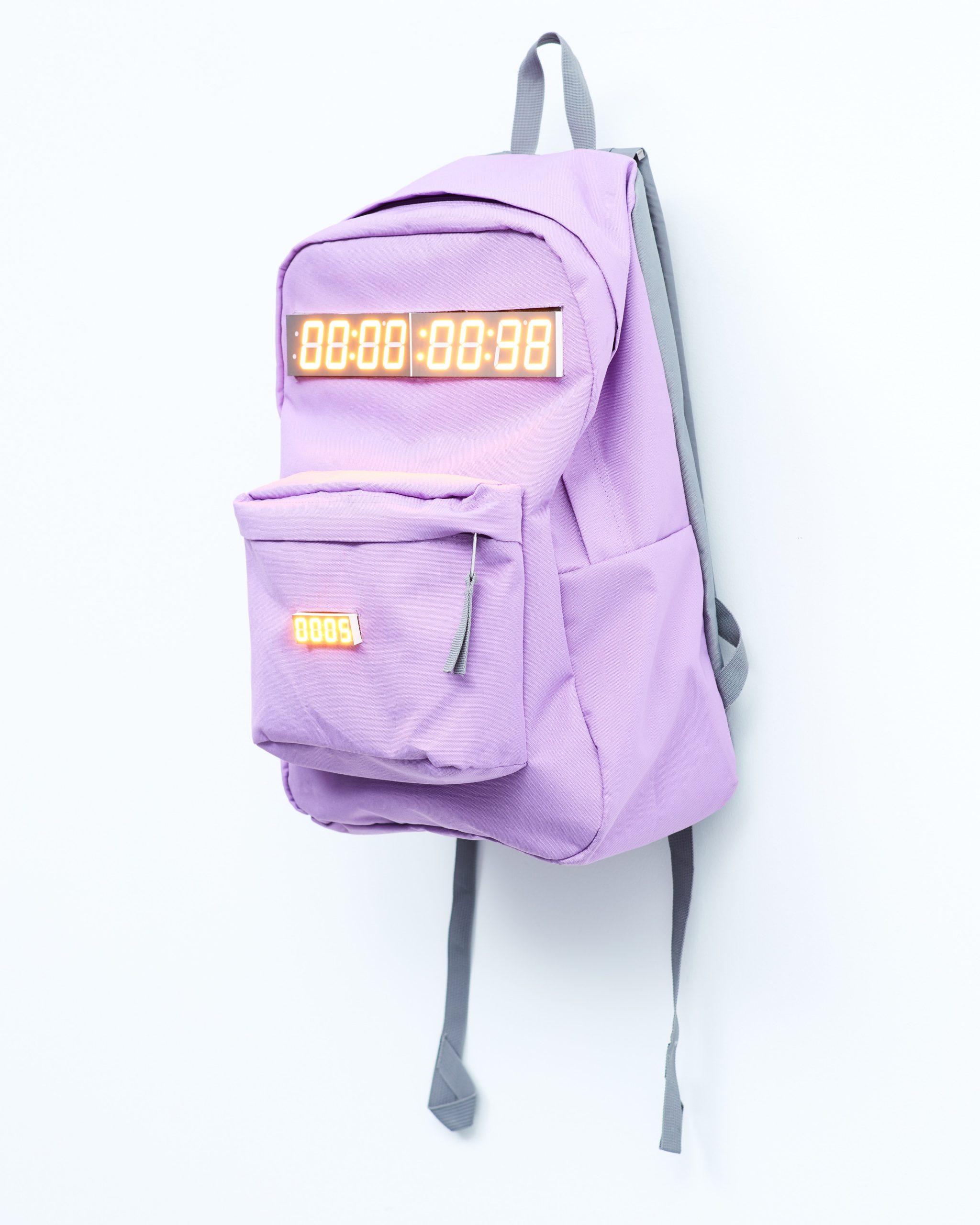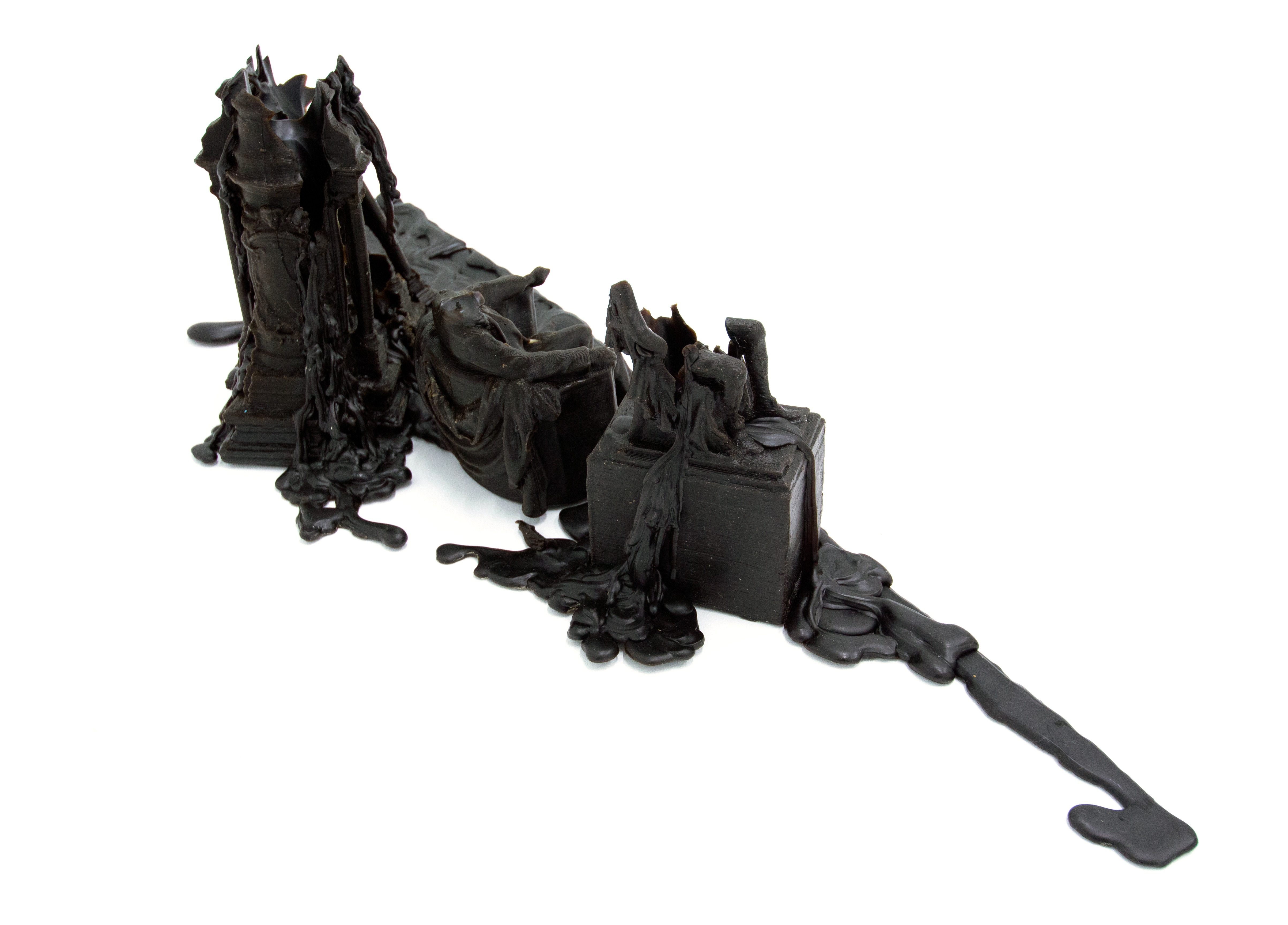 Wax Monuments 04, 2020, wax, wick, silver platter
Unattended Baggage (Time Capsule) V, 2020, backpack, LED times, motion sensor, electronics, and portable USB battery pack
Wax Monuments 02, 2020, Wax, wick, 3D scan of the Lincoln Memorial in Washington DC, the Robert E. Lee Monument in Richmond, VA, and a Thomas Jefferson Monument in Charlottesville, VA
Williams' work has continually addressed ideas of history, time and agency through works that question structures of power and representation in the United States. With his most recent work exploring the resizing and deconstructing of historic American monuments, the artist's practice proves particularly powerful and poignant in the context of the Black Lives Matter movement, as well as recording and recounting major moments of social and political change. In Genesis Amnesia: Part 1, each of Williams' four bodies of work on view—wax monuments, backpacks or Unattended Baggage (Time Capsule) series, sewn paintings, and concrete-filled tanks—communicate a provocative theme. These works, in some capacity, require the viewer to visually and physically engage with them; by implicating the viewer, Williams concretely identifies the way we observe and take part in history. In the below text which accompanies the exhibition, writer Leila Weefur further conceptualizes Williams' works' notion of time and our constructs around memory.
Forget God. Forget what you know to be true of all concepts of Time, those are constructs. Constructed Time is a mechanism of control, therefore all conventional concepts of Time that fall under the occupation of western culture is colonial and degenerative by nature.
Colonial Time is a virus. ​Genesis Amnesia​ is the antibody.
Consider for a moment there is no such thing as history. Consider for a moment the ​beginning​ has yet to occur and the ​end​ is always happening. No true genesis exists because just as it begins, it also ends. First, you must dislocate all notions of Time from Western convention in order to change the relationship between preservation and existence. Existence does not assume preservation; preservation does not authenticate existence. There is no distance between the beginning and the end, no separation between then and now. Time knows everything and nothing. Time is simultaneous, and in truth, Time can never actually be preserved. Each moment of Time is singular and definitive and can never be experienced again, therefore anything attempting to bring permanence to a given moment in history is an effort to occupy and economically exploit human existence. What is the value of Time if only those in power hold the ability to construct its g​enesis​?
Real—​experienced Time and history are fugitive and ​fugitivity implies a performance of resistance. Resistance to the dissimulation of Time —as it has been imposed on history.
Time and any document of Time is not be to be governed, made a private entity, monetized, or withheld by power, both visible and invisible power structures. Time is to be accessed and altered by all existing within it and without the promise of ownership. Time holds ownership over everything and is evidenced only through its impression on the land.
A map is only a document of the landscape, and the land is the only thing with a true imprint of history. Our bodies leave footprints, marking history as we traverse the landscape. Imagine that antibody's effect on colonial Time is resetting the clock through Time-mapping, impressions of body on object, enacting a cyclical reset with each new impression. This act of mapping is a continuum of temporal mark-making; from body to object, object to land, and land as the evolving document. The destruction of colonial Time is nothing less than the performance and active experience of fugitivity.
Genesis Amnesia​ is a staging of possibility, empowering both the animate and inanimate body to become part of the performance of fugitivity. Time and what lies in the truth of its existence is an extending permission to inhabit the power of the antibody."
– Leila Weefur, 2021
Sandy Williams IV received his BFA from The University of Virginia in 2016, and his MFA in Sculpture + Extended Media from VCUarts in 2019. He has held teaching positions at VCUarts and The University of Richmond, where he is currently an adjunct professor in the sculpture department. His work has been shown at Springsteen, Baltimore, MD; Guadalajara 90210, Mexico City, Mexico; Public Pool Gallery, Los Angeles, CA; The Virginia Museum of Contemporary Art, Virginia Beach, VA; Co-Prosperity Sphere, Chicago, IL; New Release, Project Gallery V, and Socrates Sculpture Park, all, New York, NY.