About the Exhibition
Reynolds Gallery is pleased to announce the opening of Deep Parts, a group exhibition of artworks employing and exploring negative space. The exhibition opens Friday, January 13, 2023, with a public reception from 5:00–7:00 pm on Friday, January 20, 2023. Artists featured in the exhibition include: Isabel Bigelow (Ghent, NY); Richard Carlyon (1930-2006); Gerald Donato (1941-2010); Tara Donovan (Brooklyn, NY); David Freed, Leigh Suggs, Jack Wax (all Richmond, VA); Meghan Gerety (New York, NY/Marfa, TX); Matt Kleberg (San Antonio, TX); Raul De Lara, Donald Sultan (both New York, NY);Brittany Nelson (New York, NY/ Richmond, VA); Clare Rojas (San Francisco, CA); Laura Snyder (Charlottesville, VA); Barbara Tisserat (1951-2017); and Paloma Wall (Nashville, TN).
In art, negative space refers to the "empty" space around and between the subject(s) of a composition. While the negative space carries no defining details in and of itself, the edges of the subject paired with the use of high contrast can accentuate areas of an image, allowing the viewer's mind to fill in "missing" information. Working in conjunction with positive space, negative space builds balance within a composition, creating an activated layout that avoids overwhelming the eye.
The works in Deep Parts employ negative space in vary degrees to varying effect. In many cases, the works utilize negative space to define forms, create illusions of depth, and emphasize focal points. Certain pieces use negative space to create a sense of rhythm, drawing our eyes and bodies into the composition. At other turns, negative space is invoked to communicate nuanced conceptual considerations, such as notions of loss or longing, or a questioning of the functionality of borders and boundaries.
Deep Parts seeks to draw visitors into a curious and reflective state. Works predominately employing high-contrast black-and-white compositions are juxtaposed with pieces engaging saturated palettes of red and yellow, creating a visual rhythm punctuated by points of emphasis within the exhibition design. Featuring artworks from the 1960s to today, Deep Parts endeavors to highlight negative space as a fundamental aspect of art making, showcasing myriad applications of the principle, and inviting viewers to consider the information and energy inherent in open areas.
About the Artists
 Isabel Bigelow
Blending abstraction with familiar natural elements, Isabel Bigelow (Ghent, NY) creates paintings and prints rich in color and texture. In her work, peacefulness coexists with the hum of nature's energy. Bright images of trees, horizons, and geometric forms bleed into matte backgrounds, creating an airy yet structured atmosphere. She builds the vibrant surfaces of her paintings through a slow and additive process: painting layers of gesso and oil and burnishing them in between applications. The result is a smoothly finished painting that glows and vibrates with intensely saturated color.
Richard Carlyon
Richard Carlyon (1930-2006) taught in the Departments of Painting and Printmaking, Communication Arts and Design, and Art History at the Virginia Commonwealth University School of the Arts, eventually earning an appointment as Professor Emeritus in 1996. Carlyon's long and storied career produced varied works across artistic disciplines. His early works reduced everyday objects to their geometric elements, establishing the abstract visual language Carlyon would employ throughout his studio practice. From large-scale minimalist paintings to conceptually driven prints and drawings, Carlyon's works were informed by the awareness and everyday observations of the artist.
Raul De Lara
Raul De Lara (New York, NY) works with wood, sand, and other organic materials to explore body language, plant behavior, immigrant household drama, and furniture futures. Blending the fields of sculpture and design, he makes objects that follow a rigorous phase of historical research, performed rituals, and multicultural hand-carving techniques.
Gerald Donato
Gerald Donato (1941-2010) was among the core-founding teachers of VCUarts (originally known as the Richmond Professional Institute), where he taught for thirty-eight years in the Painting and Printmaking Department. Beginning his career as a printmaker, Donato shifted his practice to painting over the years, yet maintained a number of the aesthetic and practical concerns from his printmaking practice. His works are richly layered, incorporating humor, romance, whimsy, and allusions to both the art world and the world at large.
Tara Donovan
Exploring the malleability and reconstruction of quotidian materials, Tara Donovan (Brooklyn, NY) transforms familiar objects into transformative sculptures. In earlier work, she exhibited large-scale installations of Styrofoam™ cups and a floorscape composed of thousands of trimmed No.2 pencils, both pointing out the aesthetic qualities of everyday materials through intense manipulation. With the work on view in Deep Parts, Dononvan has produced lyrical, coil-like prints of Slinkys®. The prints evoke meandering road maps to nowhere, both restrained and full of looping action. Obsessive, repetitive patterning imprints an imposing quality within Donovan's work—yet the constantly visible trace of her hand imparts an addictive tenderness.
David Freed
David Freed's (Richmond, VA) artworks capture the energy of his subjects, with all their unpredictability and imperfections. Drawing inspiration from individuals, the seasons, atmosphere, and changing weather, Freed adopts an intimate relationship with his subject, making paintings and prints with a distinct perspective. Layers of etchings and mixed media techniques unite with varying hues and textures to convey an essence as opposed to accuracy. Freed's touch and eye for color lends to the subtlety and undoubted sincerity present in each of his pieces.
Meghan Gerety
Meghan Gerety (New York, NY/ Marfa, TX) makes woodblock prints, paintings, and drawings that spur a dialogue between the natural world and abstraction. Gerety reimagines painting through her unique printing and carving techniques. Her most recent works are inspired by both historical and contemporary artists engaging the themes of confronting morality and time. Gerety is interested in depicting a sense of the present, the here and now.
Matt Kleberg
In Matt Kleberg's (San Antonio, TX) works, dense, chromatic bands of oil stick and pen seem to parody the empty stages, facades, and porticos that are portrayed. His compositions are thus about both the density (and intensity) with which Kleberg applies pigment and the representation of space. As Kleberg explains, "Anything can spark an idea for a painting, but recently it's been little architectural moments encountered around my [former] neighborhood in Brooklyn that have fueled new things in the studio."
Brittany Nelson
Grounded in the scientific elements of photography, Brittany Nelson (New York, NY/Richmond, VA) explores the chemical reactions taking place under film, seemingly freezing a moment in time. For the past few years, she has explored mordançage, a photographic process originating in the 1800s, which deteriorates the print's nature, creating a soft, ghost-like bleached image. Her newer work dissects the elements of tintype photography, which she reinvents with novel chemical solutions and layered photoshopped imagery.
Clare Rojas
Clare Rojas (San Francisco, CA) maintains an interdisciplinary practice that centers on narrative and formal clarity.  A pivotal figure in the development of the Mission School, which formed in the 1990s in San Francisco, Rojas draws inspiration from folk art and geometric abstraction. Her paintings explore gender roles, relationships with nature, and the universal quest for harmony and balance, with works frequently incorporating bright, angular shapes and alluring applications of negative space.
Laura Snyder
Laura Josephine Snyder's (Charlottesville, VA) work explores emotion, memory, and cognition through abstraction and an embodied practice. Currently, Snyder is delving into the study and application of natural pigments, their historical significance, and their intrinsic reference to place. Snyder's "Traveling Drawings" are produced while the artist is in transit, with the final works holding a physical history of their production, where folds in the paper trace the artist's journey.
 Leigh Suggs
Leigh Suggs (Richmond, VA) channels her fascination with the mystery and psychology of sight through cut paper works and large-scale installations. By cutting and weaving intricate patterns, she animates an array of materials, including reflective silver mylar, painted Yupo (a thick, plastic-based paper), and ink. The intangible and inexpressible optical illusions created in each piece lure in the viewer, pulling them into an experience of seeing that is at once immediate and elusive.
Donald Sultan
Donald Sultan (New York, NY), one of the leading names of contemporary art, is known for challenging qualities of abstraction versus representation in his graphic renderings of iconic, often floral, imagery. He contrasts shiny, bright silhouettes of falling flowers, dice, and fruit in a matte black background applied through flocking, a velvet-like spray. Zoomed-in perspectives and poppy color variations present a new translation of everyday sights, while the weighted boldness of Sultan's subjects alongside his lengthy, loopy signature creates balanced, engaging compositions.
Barbara Tisserat
Lithographer and long-time Virginia Commonwealth University professor Barbara Tisserat's  (1951-2017) practice was marked by context and perception. Her artworks deal with the elusiveness of clarity, highlighting how perception impacts understanding. Collaging and combining elements through appropriation allowed Tisserat to interrogate our understanding of the world, and the technical nature of lithography allowed her to incorporate the artist's hand into her compositions, drawing connections between being and perceiving.
Paloma Wall
Paloma Wall (Nashville, TN) uses traditional hand-building techniques such as coiling, pinching, and rolling slabs of clay to produce her ceramic forms. Her sculptures aim to explore the human figure while simultaneously examining ancient pottery vessels. Wall incorporates various textures and multitudes of handles to create both patterning and a sense of utilitarian purpose in her sculptures. A combination of organic and precisely extruded forms creates a balance within each individual work Wall produces.
Jack Wax
Jack Wax (Richmond, VA) explores facets of two- and three-dimensional expressions, creating mixed media sculpture, glass objects, and ink and graphite drawings. Spending time in Japan, California, and New York, elements of Western and Eastern culture weave themselves into his obsessive, back-painted drawings. With his glass works, Wax designs abstract pieces in reaction to early cultural art objects and artifacts. Hand-blown and molded, the glass mimics the intimate quality of his drawings. Simultaneously expressing precision and imperfection, these glass works illustrate the human condition latent in hand-made objects.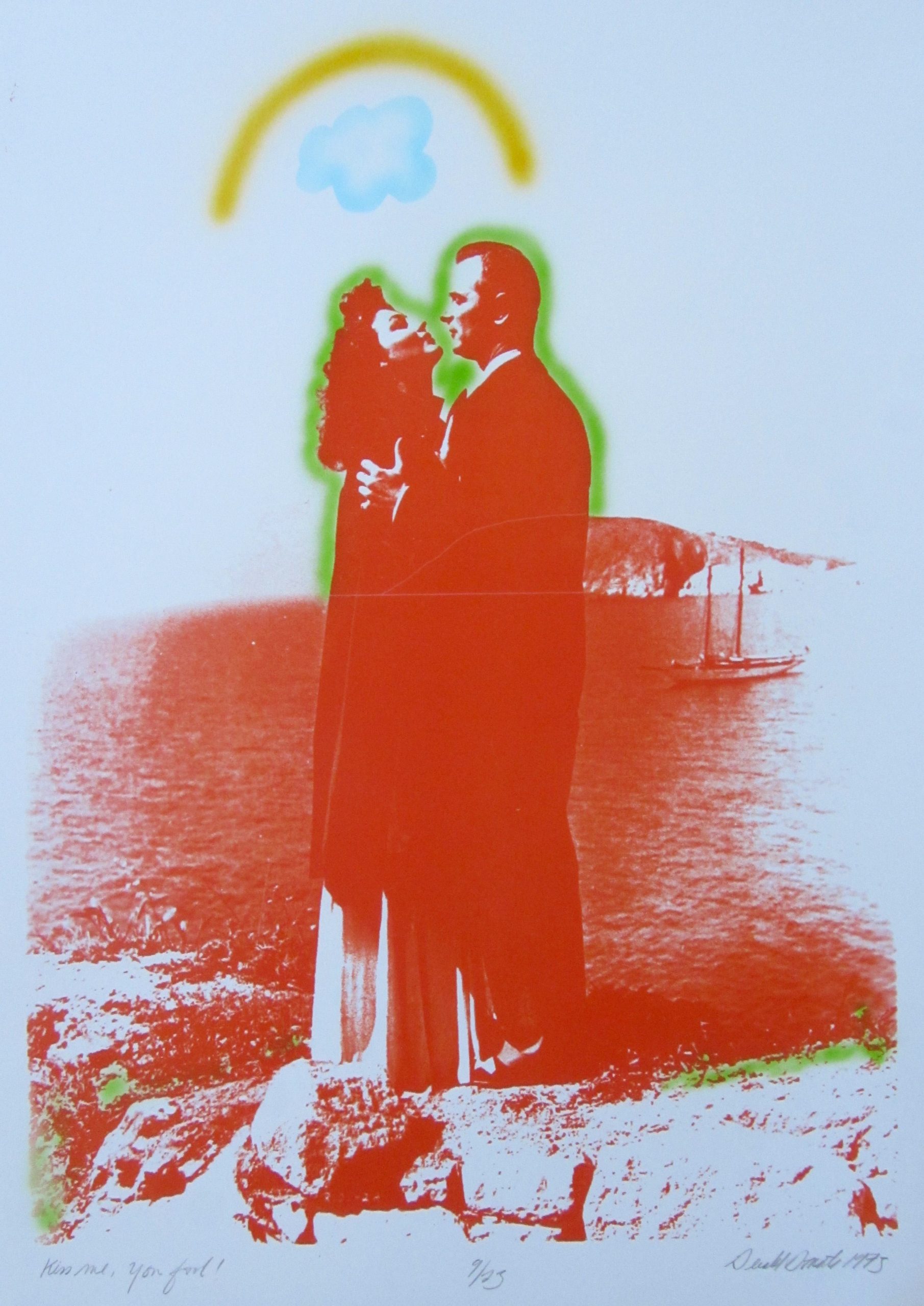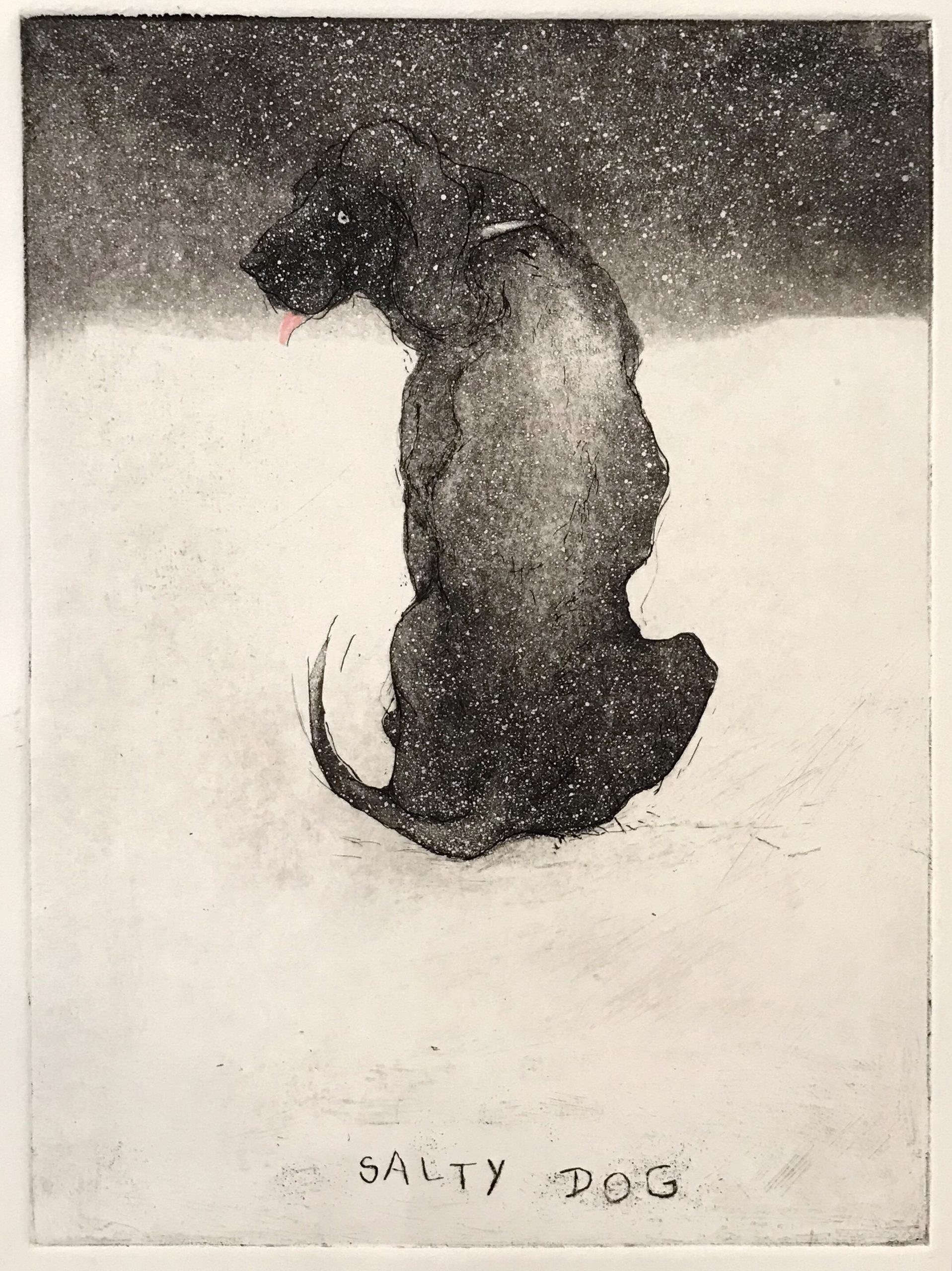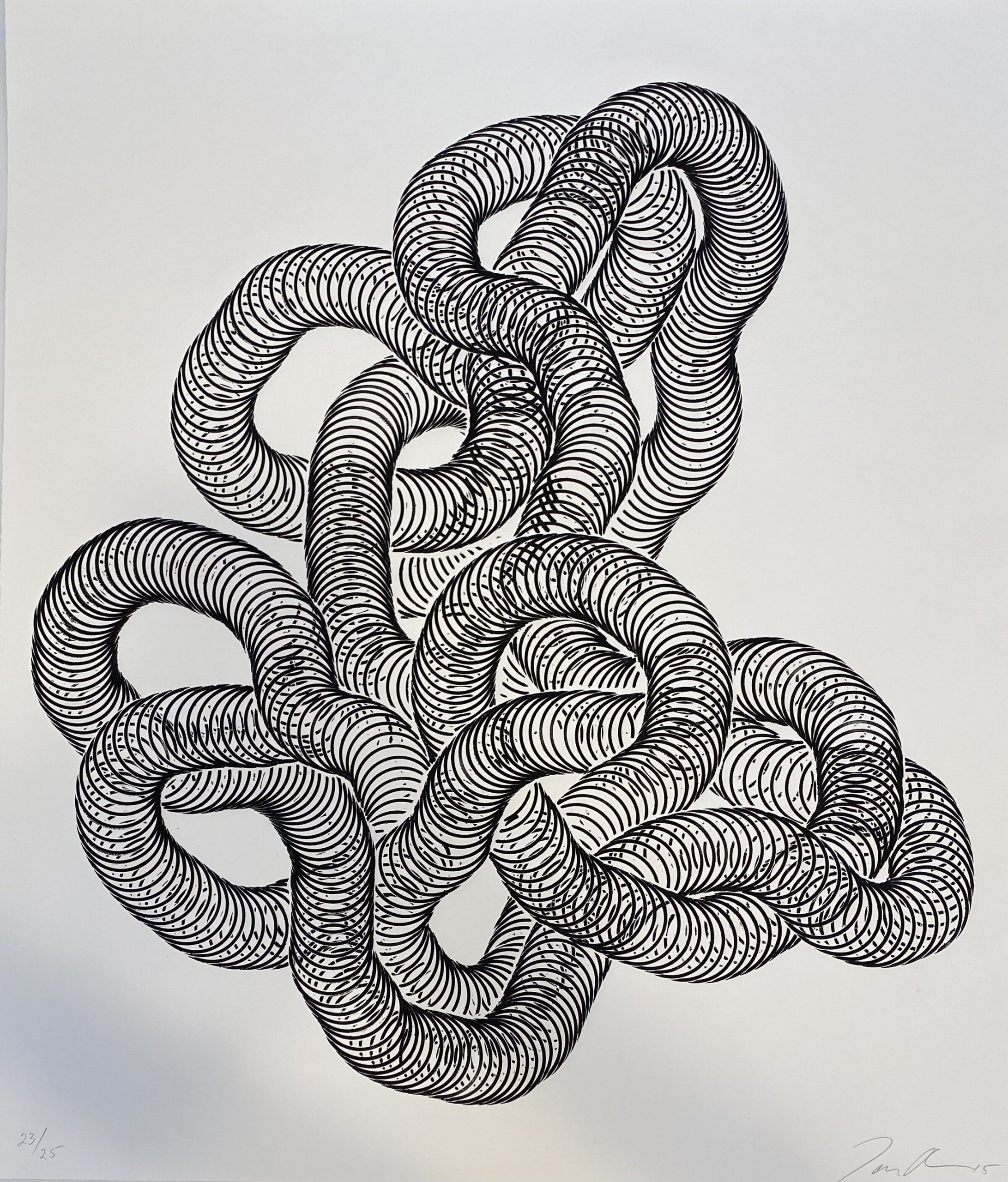 Gerald Donato, "Kiss Me, You Fool!", 1973, Photo-lithograph, 34 x 27 inches
David Freed, "Salty Dog", ND, Etching, 15 x 11 inches
Tara Donovan, "Untitled", 2015, Relief print from slinky matrix, 37.5 x 32 inches