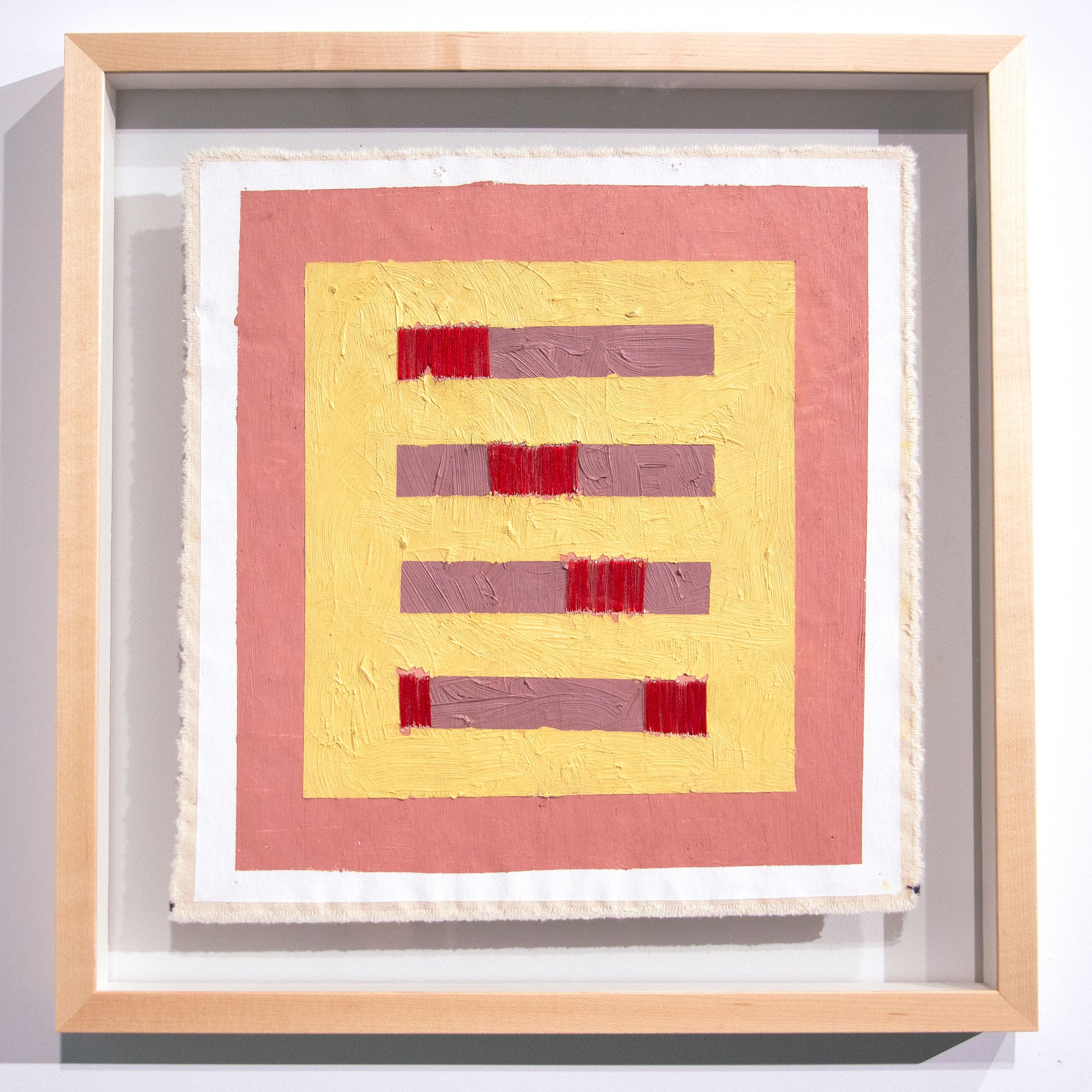 Time Travel #5 (25 Nikhil Ct), 2020
Oil on canvas, thread, 4 hours
13.4 x 13.8 inches
$2,200
Framed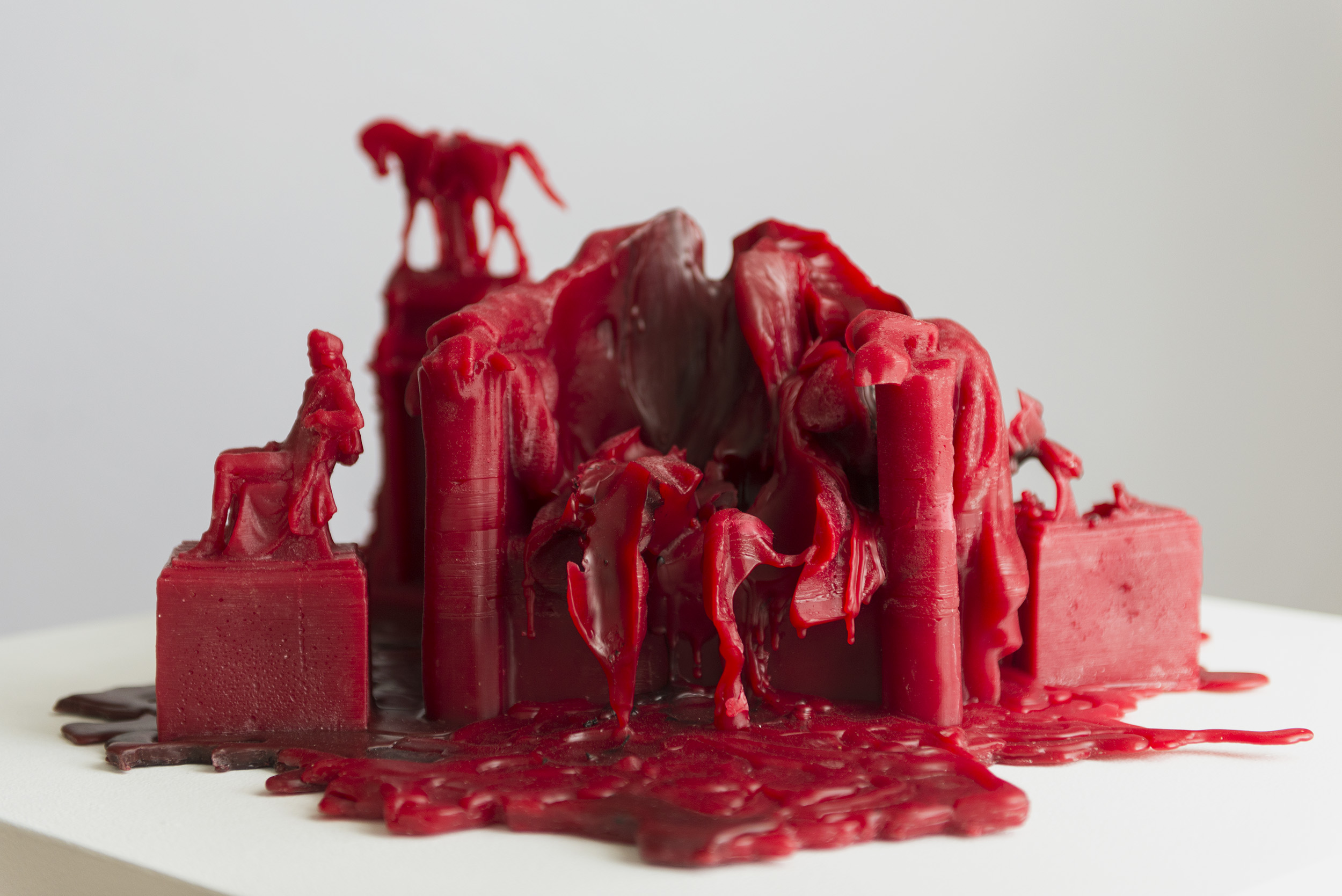 Wax Monuments #01, 2020
Wax, Wick, 3D Scan of the Lincoln Memorial in Washington D.C., the Robert E. Lee Monument in Richmond, Virginia, and a Thomas Jefferson Monument in Charlottesville, Virginia
9 x 17 x 17 inches
$2,000
My work right now is dealing with a sense of inertia. I am interested in the way time can be passed down, transformed, and gathered inside of us, as well as in the things around us, through a propensity towards rest, also called history. I started making these Time Travel paintings as a way to capture the time I spent making an artwork. For these, I paint a grid or template, and then spend a specific amount of time sewing in the spaces I've created. The result is then an object that formally presents the time and effort that went into its making; an aesthetic record of my activity. As I work on them, I often think about all of the other things I could be doing with my time; and in particular, my distance away from my loved ones, as a way of traveling or projecting in place. Now that I am in quarantine, and it has become so much harder to visit my family, these works hold a particular resonance.
These Wax Monuments were first made as a proposal towards public sculpture. Traditionally, monuments are made to sit and collect a patina, as they withstand change in order to reflect a record of a people's history. I am interested in visualizing change, and building monuments able to keep a record of activity. By circulating miniature wax versions of these monuments, people are given agency over these forms that are normally immobile. If these candles were made to be monumental, they would be within reach, adorned with wicks, and visitors would be invited to mold, burn, shape, look at, take from, or add to their forms, working together in a sort of public democracy.
Artist Statement, Spring 2020
Sandy Williams IV is an artist and filmmaker working in sculpture, cinema, performance, painting, photography, text and the public. His work is about the persistence of memory, the body, and resistance. Through various media, Williams performs acts of persistence, as a dynamic engagement with the historical, in pursuit of the threads that connect diasporic origin stories to the official record. This work gives agency to him and the audience to both actively participate in the creation of future mythologies and build theories towards the emancipation of our public spaces.
Williams received his BFA from The University of Virginia in 2016 and his MFA in Sculpture + Extended Media from VCUarts in 2019. He has held teaching positions at VCUarts and The University of Richmond, where he is currently an adjunct professor in the sculpture department. His work has been shown at Socrates Sculpture Park, New York, NY; Dorsky Gallery, Long Island City, NY; Guadalajara 90210, Mexico City, Mexico; Public Pool Gallery, Los Angeles, CA; The Virginia Museum of Contemporary Art, Virginia Beach, VA; and Co-Prosperity Sphere, Chicago, IL, among others.