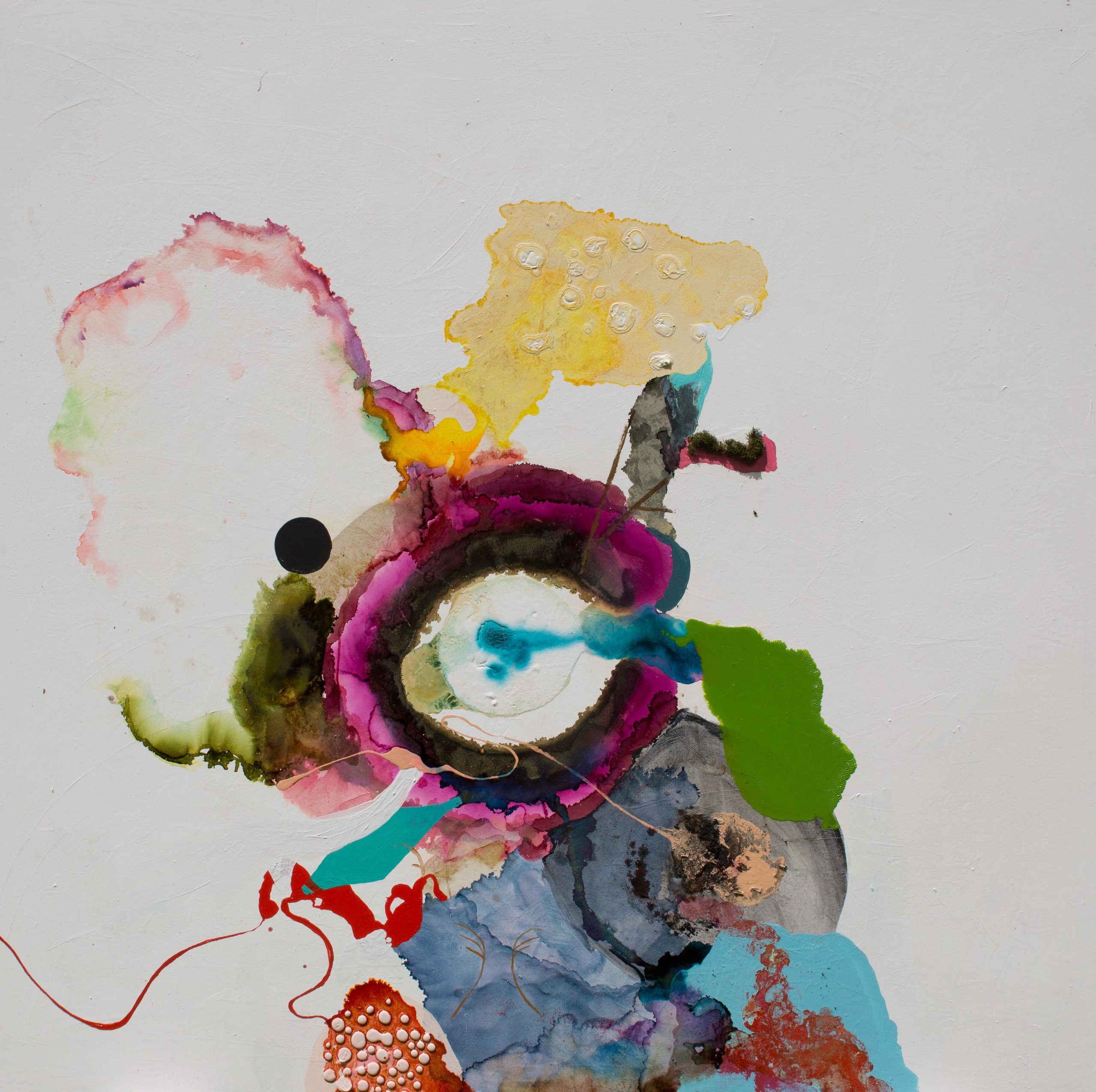 Castoffs, 2020
Mixed media on panel
60 x 60 inches
$9,000
This new work relies on the significance and symbolism of materiality and on the intentions set during the creation of the painting. The act of mixing materials that would be considered non-traditional in the manner of alchemist places significance in the act of concoction. The concoction's symbolism lays in the preparation, distribution and ritual of the creation of the painting. The material is the meaning and is predicated on its symbolism in both its relation to other materials, and in its singular symbolism within western culture. Many times these materials are culturally relevant and range in issues. In this particular work "Outcasts" I set the intention as a protection for the creativity of women of color. In this painting, alcohol based inks, pencil shavings and dyed tinctures of Mother's wort, Tulsi and Wood Betony are interwoven with synthetic and natural hair extension I received from a fellow artist at a recent retreat in the mountains of Virginia (the VCCA). These materials were set aflame and extinguished with paint, inks and a few symbols, forms and colors with importance to the ritual.
I consider these paintings to be less in the tradition of painting, and more in the tradition of spells. The end result of the work is a residue of an activity and a process that has an aspiration other than representative form. This work asks for trust and belief in a process that allows me to address some of the darkest parts of our human condition in the present. Utilizing the only tools and processes I currently have access to, it is my way of holding light in times of darkness. While I hold no beliefs in its effectiveness, I believe the desire to relieve the suffering of others is common in the artistic spirit, and those desires are genuine, powerful and meaningful.
Because I enjoy quiet and solitary activities, I do not personally have a hard time with the isolation of this time, but it is the suffering of those ill and scared their worried families and those in desperate financial situations that I fear for. 20% of the sale of any artwork will go to Feed More to help with food insecurity during the COVID 19 pandemic.
Trepanier received her BFA from the School of the Art Institute of Chicago and MFA from VCUarts, where she has held adjunct professor positions. She has received multiple accolades, including the Pollock-Krasner Foundation Grant (2011), VMFA Professional Fellowships (2009 and 2002), and The Theresa Pollak Fine Art Award (2004). Currently, the artist lives and works in Richmond, VA.