What tenements of clover
Are fitting for the bee,
What edifices azure
For butterflies and me –
What residences nimble
Arise and evanesce
Without a rhythmic rumor
Or an assaulting guess.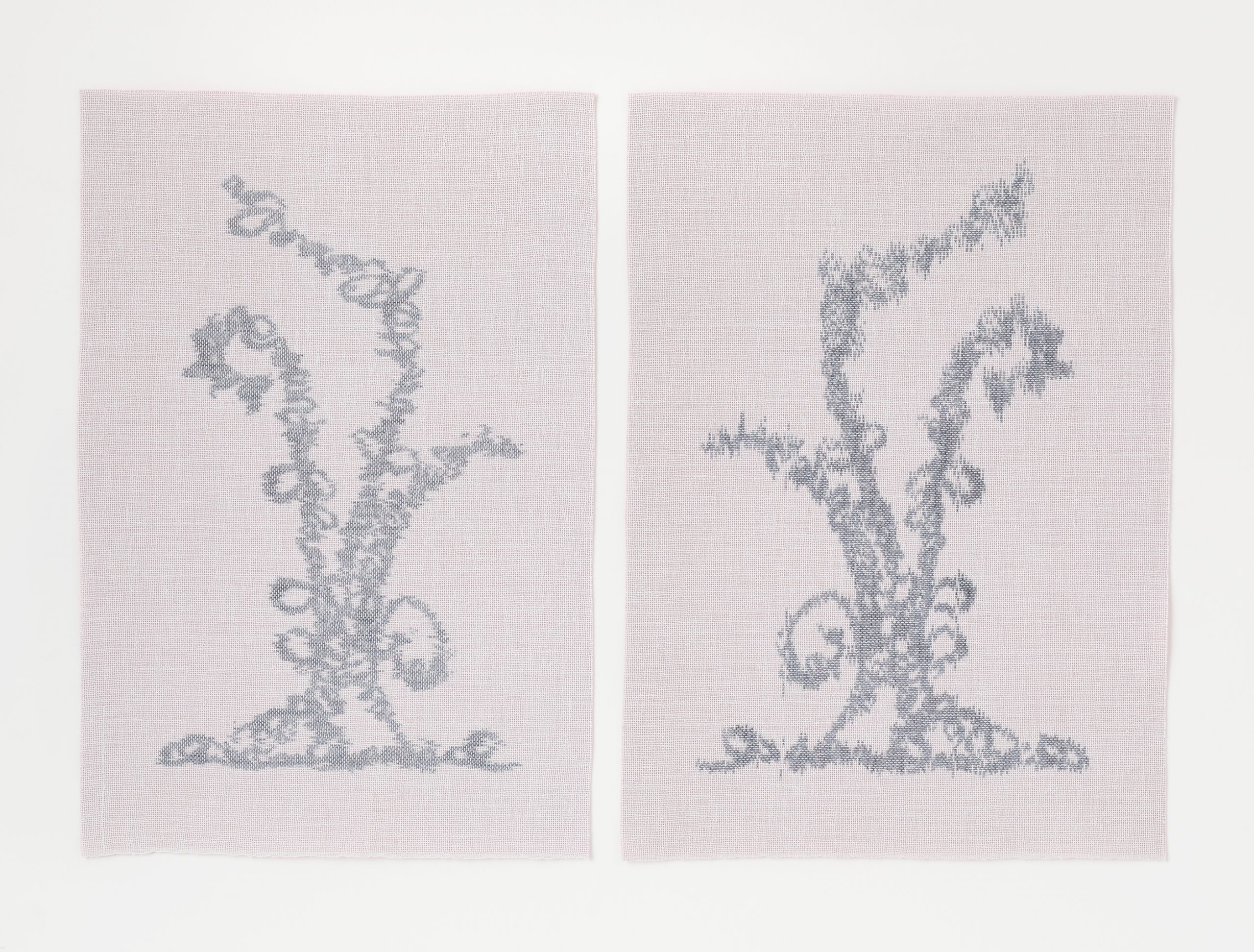 A Poem Is a Flower (Emily #1338), 2019
Handwoven cotton, dye, pigment, PVA, cotton backing
18 x 23.375 inches, framed
$2,700
I've been exploring poetry as subject matter for my work.  When I read a beautiful poem, I feel that I have received a sacred gift, as though the poet is giving me a flower, directly from their heart to mine.  In creating a visual artwork from that poem, I wish to give a flower too…to you, my viewer.
This work was created using Emily Dickinson's poem #1338, where the text itself (which is about a meadow) becomes organic growth.  First, I used the poem's words to create a drawing on paper, which I then painted onto handwoven cloth.  In a process used in a lot of my work, the painted cloth is unwoven, causing the image to dissolve into dashes of paint on warp and weft thread.  When those threads are rewoven (separate from each other), they create two altered drawings, which imperfectly mirror each other.
Andrea Donnelly was born in 1982 in Wilmington, Delaware and currently lives in Richmond. She received her BA in Art and Design and a BS Psychology from North Carolina State University and her MFA in Fibers from Virginia Commonwealth University. Her work was included in the 2018 inaugural exhibition of Richmond's Institute of Contemporary Art and she held a solo exhibition at the North Carolina Museum of Art in 2017. Her pieces are held in the collections of the North Carolina Museum of Art, The Federal Reserve and Capital One, both in Richmond, VA.